Over the weekend I began to get hits on Gulf Resources (GFRE.OB) and was wondering why. The news that came Monday morning clarifies.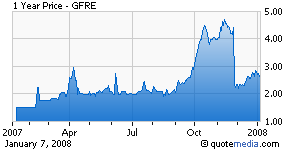 The company announced that it is ready to start commercializing its new oil drilling fluid system, which has not only been recognized by the three oil majors in China (Sinopec (NYSE:SHI), CNOOC (NYSE:CEO) and CNPC), but has already obtained an intent to purchase from CNPC's subsidiaries.
This is a big move. GFRE is comprised of two wholly-owned operating companies - SCHC and SYCI. Until now, SCHC, a major producer of bromine and crude salt, has been the more visible entity, being the largest manufacturer of bromine in China with a 15% market share. In contrast, SYCI, a maker and distributor of chemicals used in the oil & gas, waste management and paper-making industry, was the ugly stepchild, useful but quite unloved. Not anymore. With this new drilling fluid system, SYCI will be operating in the an area that overlaps oil with an environment friendly offering in China. How hot is that!
Drilling fluids are used to cool and lubricate drill bits in the search for crude oil. They are also applied to remove rock cuttings generated in the process. GFRE's new system has further usefulness: not only is it green, it will enable low-density drilling, timely detection of oil and gas formation, and in addition, strengthen clay particles on the drill wall to enhance drill stability. Is it any wonder then that this product has attracted the attention of the Chinese oil majors?
So what is the financial implication to all this? According to the company, SYCI's initial production capacity is 3,000 to 5,000 tons per annum, which works out to a current market value of $4.5-$7.6 million. Considering GFRE is expecting revenues of $54m for FY2007, this represents up to a whopping 15% of sales. And that's just the initial output.
What needs to be stated is that the company is already operating in the oil & gas area with an installed customer base, so selling this new system to them will not entail creating any new infrastructure or relationship, implying a quick and relatively painless ramp up. I believe the company can easily capture a 10-15% market share without great effort. And if all goes well, my estimate is that this business line will contribute $0.01-$0.02 to GFRE's EPS in its first year of operation.
My Position: None.