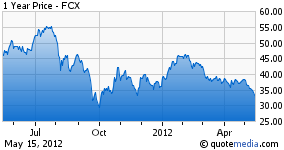 Freeport-McMoRan Copper & Gold (NYSE:FCX) and other material stocks just can't seem to catch a break. They had a pretty rough 2011 and so far 2012 hasn't looked much different. With the overall selling pressure on the market recently, FCX looks like a good bargain now and if it goes down further, it might be an absolute steal. This article presents 4 reasons why we believe FCX can be a good materials stock in your portfolio.
Current Yield: FCX's current yield works out to 3.6%. And given the way things are going, it might not be long before the stock hits the $30 range. If and when the price hits that level, the yield would work to 4%, one of the highest you can find in the materials sector.
Dividend Growth: FCX has grown its dividend each year since the market crash in 2009. The last three dividend increase percentages were 25%, 66%, and 100%. The management is keen on reducing its debt as well as return cash to shareholders and this is evident in the balance sheet and dividends. FCX's debt/equity ratio of 18% is more than three times lower than that of Southern Copper (NYSE:SCCO). And, we have seen the power of compounding and dividend growth in quite a few articles like this and this.
Book Value Per Share: We acknowledge that book value per share is not always a good indicator of true worth. But if at all the metric can be used, it is for asset intensive material companies. These companies typically own mines, lands and precious metals whose accurate values might not be reflected in the share price but can be better defined by the book value. FCX's book value is $17/share and its price per share is $32. To put that into perspective, Southern Copper has a book value of $5 versus a share price of $29. This tells us the earnings power of FCX is valued at next to nothing. This is reflected in its PE of 8 as well.
Target Price: Taken with a pinch of salt, analyst target prices do give us a fair idea of what the overall expectation is for a stock, at least with respect to its peers. FCX's average price target is $50, a good 50% away from the current $32 range. And the best part is, you get an almost 4% yield till you wait for the price appreciation to kick in.
Conclusion: Yes, FCX does have a bucket load of problems like possible China hard landing and the continuous labor issues in Indonesia but it is hard to look past the value this stock currently has and even more if it drops to $30. We recommended buying SCCO over FCX earlier but now our overall approach favors dividend growth [FCX] over fluctuating high dividends [SCCO].
Disclosure: I have no positions in any stocks mentioned, but may initiate a long position in FCX over the next 72 hours.