With financial markets in a tail-spin again and many commodity prices reaching 1-2 year lows, the question is whether or not this is a buying opportunity or not, in such markets as gold, crude oil and the agricultural markets such as sugar, cocoa, cotton, coffee, corn, wheat and soybeans.
While the $2 billion JP Morgan misfortune, combined with the recent European elections has had the market in sort of a panic, ideal world weather conditions for cocoa, sugar, corn and soybean planting and world wheat crops, have definitely had an effect in lower commodity prices. While it is tempting to say many commodities are oversold, worries over China industrial production slowing and the Indian government taking steps to "curb' gold buying from their citizens, could still result in gold prices heading lower. Selling call options with strike prices such as $1800-$2000 a year down the road may seem like a risky bet, but I think the odds of seeing prices challenge this area is under 30%. Crude oil prices were too high to begin with, peppered more by hedge fund buying last year than any reality of restricted world supplies.
We had been bearish coffee futures and the ETF (NYSEARCA:JO) since late last Fall, when it appeared that the Brazilian coffee crop would be huge and Vietnam would see good production. Presently, the market is treading water, trying to figure out how much damage has recently occurred to the new main crop in Colombia, from heavy rains, as well as some short term harvest concerns in Brazil. However, longer term, the market probably has the potential to move lower, barring any frost threat in Brazil.
Natural gas futures (NYSEARCA:UNG) have been the only lone shining star of late. This has nothing to do with the weather forecast (I do not see a hot summer nor active hurricane season at this point), but due to a heavy short position from the warm winter, lower rig counts and increased industrial and consumer demand. I doubt, given the weather forecast for this summer, prices will get much above $3.50 in the futures contract. However, the month of May has been quite warm across parts of the U.S., and if early June is warmer than normal, then some additional pre-summer hedge buying could continue.
Cotton, which saw historical price rises more than a year ago due to stellar Chinese demand, but also major crop issues in China, Pakistan and India, has seen world supplies grow since 2011 because of mostly ideal world weather. With drought easing rains in Texas this spring and China expected to produce another big cotton crop, such companies at the GAP (NYSE:GPS) could benefit from lower production costs. Even the midst of the world turmoil, there are several industries such as clothing manufactures, that will benefit from lower cotton prices and the gap is expanding retail outlets overseas.
SOURCE:GOOGLE FINANCE
Grain Market in a Tail Spin -- Dryness in the S. Plains and Russia need to be watched. Do Soybeans have downside potential?
While worries about the recent European elections and renewed global financial worries have pressured many commodities (crude oil, grains and precious metals), weather has been a major negative market factor in the grain market the last 4-6 weeks. Drought easing rains in the Plains and the potential for record U.S corn production, combined with improved world weather for wheat, has been a bearish impetus for grains. The one shining star (soybeans), has of course rallied in the face of the South American drought we began predicting last December, in which the USDA most recently reiterated the very tight global stocks situation. However, from my experience over the years, the "trade" will begin to focus in on U.S planting prospects and early germination conditions for soybeans, as well, in which the "potential" exists for a more bearish late spring and/or summer scenario for new crop November soybeans.
There are several grain ETF's, most of which I continue to feel have little upside over the next several months. This is due to my expectation of a rebound in global grain production -- in part due to an El Nino "neutral" summer (NO El Nino or La Nina) and historical trends with respect to sea surface temperatures around the globe.
There is some concern in the wheat market currently about dry weather to the Russian wheat crop, as well as a lower Kansas wheat crop due to recent heat. But given great rains coming to Russian soon, and seasonal harvest pressure, I cannot say with great confidence that wheat will stage a major rally in coming weeks.
(This area is slated to get good rains the next week or two, otherwise, wheat prices would potentially explode, due to the heavy short position)
SOURCE: USDA
The weakened La Nina has resulted in great growing conditions for the U.S. wheat crop and while concerns have prevailed over the fate of both the European and Russian crops (earlier fall and winter weather woes), needed rainfall the next few weeks will alleviate these conditions. The result may be a buy in the Short ETF wheat fund (LON-SWEA). However, the greater potential may lie in shorting both corn -- Teucrium and soybean ETF's such as (NYSEARCA:SOYB). This is because wheat has already been on a tear south and while summer world weather will be important to the wheat market, corn and soybean futures are more affected by Midwest growing conditions between June-August. I think with ideal summer weather, Nov. soybean futures may trend down to $11-$12 by August.
However, grain traders will be trading weather forecasts everyday from here on out -- so prices will NOT go straight down, until it is proven that June-early August conditions are free of any crop concerns.
If you recall in one of my previous late winter article. I discussed why soybean prices had much more upside potential heading into spring than corn. Now, ideal U.S. growing conditions has pressured corn prices some 10% the last 2 months. Another 5-10% down is not out of the question by mid-late July. (key pollinating time for corn, though record early plantings may mean the corn crop will pollinate 1-2 weeks earlier than normal). One other area I will be keeping an eye on for clients -- China where dryness here too is affecting the North China Plain.
El Nino May Form by Late Summer or Fall. However, Great Rains coming to Key W. African Cocoa areas the next few weeks.
We have written a couple articles that El Nino may be on the horizon. However, after much further inspection, it appears that this phenomenon will not form by the Fall. The implications? The Midwest summer may be beneficial for most crops and worries about drought to West African cocoa, may really not be in full force till this winter and early 2013, when EL Nino could be moderate to severe -- but not so this summer.
However, I would put the chances of at least 70%, that come this winter and early in 2013, global cocoa crops may be compromised by El Nino and higher prices may occur by next year for cocoa. Hmm -- maybe being short cocoa puts (synthetic long position a year from now, but with unlimited downside risk) may be an idea. However, if weather is a key factor in price action the next few months and west Africa benefits from rain first, then maybe being short cocoa into June and July may make more sense "first", but taking a longer term bullish attitude for later 2012 and 2013 by being long calls (just as one example).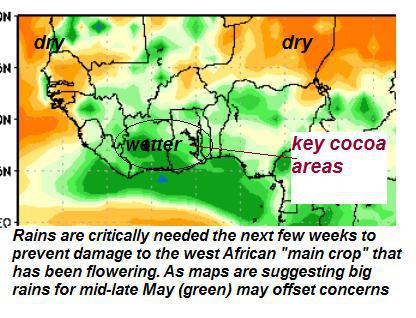 SOURCE:STORMVISTA
With out going into too much detail, there are other signals with respect to sea surface temperatures, etc., that suggest that the early summer at least will be normal to below normal in temperatures for most key natural gas areas. While natural gas has a chance to rally further due to production cuts in the Gulf and increased retail and industrial demand at these prices (nat gas cheaper than coal) -- summer weather will probably not be a bullish impetus, a couple months or so down the road.
A Look at Various Maps and Early Signs of an El Nino?
Some scientists are concerned that EL Nino might be forming as a tell-tale sign are anchovies and other animals being affected off the coast of Peru. However, much of this could be attributed to various environmental toxins and other influences.
There was an interesting article the other day in the NY Times called "Dead Dolphins and Birds are Causing an Alarm in Peru" -- which sheds more light on this devastating situation.
The warmer waters off the coast of Peru can sometimes be a tell-tale sign of El Nino forming. However, this warming needs to extend much further west to be classified as an El Nino. The three maps at the bottom of this article discuss why warmer waters further west of Peru may be slow to occur the next couple months. One main reason is the strong upper level winds, which we call the QBO index. The QBO index is highly negative right now, which occurs this time of the year, in only 20% of all El Nino cases (1972, 1982). Both of these EL Ninos were very strong and had global economic impacts -- but that means the chances of El Nino NOT forming by summer, is probably 80%.
The reason I do not like the 1982 case, is because back then, we had a major volcano called El Chichon erupt in Mexico. So far this year, we have not seen this kind of volcanic activity. Whereas, the 1972 El Nino formed without a previous major volcanic eruption.
The negative (-) QBO index is partly responsible for the SOI index not being consistently negative (see one of the charts below). IF the SOI is consistently negative for 3 consecutive months, then EL Nino will have likely formed.
NCEP/NCAR AND AUSTRALIAN METEOROLOGY CENTER
Disclosure: I have no positions in any stocks mentioned, and no plans to initiate any positions within the next 72 hours.