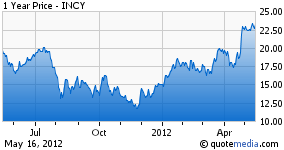 Goldman Sachs has upgraded Incyte (NASDAQ:INCY) from Neutral to Buy with a price target of $29 (up from $21), suggesting a 26% premium from today's prices as the drug discovery company focused on developing proprietary small molecule drugs has now become the latest M&A target
Those that follow Incyte Corporation, know that it has a broad range of discovery capabilities in-house, including target validation, high-throughput screening, medicinal chemistry, computational chemistry, and pharmacological and ADME (absorption, distribution, metabolism and excretion) assessment.
Its products include: INCB18424 (oral) for Prostate Cancer (Metastatic Prostate Cancer), Hematological Malignancies (Primary Myelofibrosis), Psoriasis and multiple myeloma; INCB28050 (oral) for Rheumatoid arthritis and Cancer; INCB13739 and INCB19602 for Type II Diabetes; INCB7839 for Breast cancer and Solid Tumors; INCB28060 and INCB24360 for Solid Cancers; and INCB8696 for Lupus Nephritis.
Much of the attention being paid to INCY is due to the fact that Pfizer (NYSE:PFE) now looks like it is getting its next blockbuster approved. This after an advisory panel voted 8-2 recommending approval of its rheumatoid arthritis drug tofacitinib.
Goldman is reportedly more bullish on INCY due to the significant de-risking of Incyte's key pipeline asset LY3009104.
In addition, INCY has seen a strong launch of Jakafi -- an indicated for treatment of patients with intermediate or high-risk myelofibrosis, including primary myelofibrosis, post-polycythemia vera myelofibrosis and post-essential thrombocythemia myelofibrosis.
"104's potential was validated with the positive FDA panel vote this past week on Pfizer's tofacitinib," the firm said. Goldman also sees Incyte as a more attractive M&A target given it has a marketed drug and a potential blockbuster pipeline asset.
Shares could be worth up to $37 in a takeover, Goldman Sachs estimates.
We note that this stock is highly shorted and share purchases by insiders have been on the rise.
Our FDA Calendar shows a few upcoming milestones for the company over the next two years including news that a randomized Phase II trial of ruxolitinib in combination with capecitabine for patients with recurrent or treatment refractory metastatic pancreatic cancer (the RECAP trial) is expected to enroll approximately 130 patients by the end of 2012. Results from the RESPONSE trial are expected in the second half of 2013.
Disclosure: I have no positions in any stocks mentioned, and no plans to initiate any positions within the next 72 hours.