As a continuation of our series highlighting The Top 8 Small Cap Companies for 2008, that includes our best-of-breed small cap ideas in each of eight major market sectors, here's our research thesis and long case for our top industrial pick for 2008: Hardinge, Inc. (NASDAQ:HDNG):
Misinterpreted 3Q07 Results Grind HDNG Valuations to the Extreme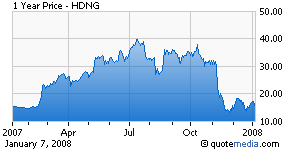 Less than a year ago, we took a close look at Hardinge, Inc., but were unable to catch up with the CEO and the stock soon moved away from us. If you look at HDNG's stock chart, you'll clearly see that was a missed opportunity, but when the stock took at shellacking on 3Q07 earnings, we decided to take another look. What we found was no less than cruel and unusual punishment. On the surface, 3Q07 wasn't that impressive, but even the unfamiliar investor should see the drastic sell-off as overdone due primarily to misinterpreted 3Q07 results and difficult year-over-year comparisons. 3Q07 revenues beat consensus estimates, but EPS fell short by -20%. Top-line revenues increased +5.6%, but orders fell -10%.
The market treated HDNG as if they had major problems in their business, but in reality the problem was that 2006 was just so good. Last year's results included: over $10 million in non-recurring shipments of specialty machines; big gains from foreign currency translations; and most of all, a huge surge in orders from the International Manufacturing Technology Show [ITMS] in September 2006 which is only held once every two years. Not to mention the fact that last quarter's earnings were diluted by an additional 1.5 million shares (+30%) from April's $56 million secondary. The ITMS show is big for HDNG, but not repeated in 2007. It should be bigger and better next September.
Despite the comparison confusion, net income increased nearly +35% in 3Q07 and has nearly doubled in the 1st nine months of 2007. The only thing wrong with HDNG is their now extremely low valuations. Prior to the crushing, HDNG traded at an avg trailing P/E of 14 with a high of 18. Now the stock trades at just: 8.1-times trailing free cash flow; 8.0-times trailing earnings; 8.8-times this year's earnings; 7.2-times next year's earnings; significantly less than its $20 per share book value; and, on par with its $17 tangible book value. Now that's what we call CHEAP! But how does this compare to industry peers? HDNG's peers are much higher at an average of 17-times trailing earnings, 16-times this year's earnings, 13-times next year's earnings, and all above their book value (avg P/Book 2.8x).
HDNG's earnings are expected to grow +30% this year and nearly +19% next year, although we believe analysts' 2008 estimates are too conservative. Multiply 2008 EPS estimates ($2.45 per share) by HDNG's avg P/E ratio prior to the sell-off and you get 2008 target price between $34-44 per share (+93-150%). Add in the recently increased cash dividend yield of 1.13% and you've got one heck of a bargain. Once you study HDNG's solid fundamentals, growing global diversification and growth catalysts on the horizon, we think you'll agree.
Disclosure: none