Futures staged an impressive reversal overnight from a low of 1320 to 1335. I will be continuing to watch how it acts around the 1340 level. A successful close above 1340 or could give us a nice bounce out of oversold conditions. A rejection at 1340 would indicate that sellers are still in control.
On a short term time frame, all long trades remain countertrend, so stops should be well managed. The risk off trade has been spectacular with volatility (NYSEARCA:VXX), the U.S. dollar (NYSEARCA:UUP) and bonds (NYSEARCA:TLT) surging. However, I remain of the notion that the market remains range bound, and now we are in the lower part of the range.
This chart of bonds vs stocks (NYSEARCA:SPY), since the beginning of this cyclical bull market in March 2009, is telling the same story.
(Click to enlarge)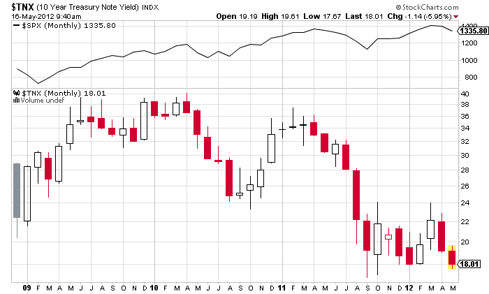 Charts in Focus
Housing continues to be a lone bright spot as one of the few non defensive sectors making higher lows with the broader market making lower lows. For a new leg up, leadership will be required.
Overnight Action
Globex, High:1336.65 Low: 1320.95
DAX +0.22%
Spain -0.29%
China -2.52%
Market Moving Releases
Housing Starts, estimate: 680K
Capacity Utilization, estimate: 79%
Fed Minutes, 2PM
Earnings
Disclosure: I have no positions in any stocks mentioned, and no plans to initiate any positions within the next 72 hours.