Summary and Recommendation
We reiterate our positive outlook on AxoGen, Inc. (NASDAQ:AXGN) shares given the company's level of execution and progress demonstrated within sales and marketing. The company reported record 1Q12 revenues of $1.7 million, which was ahead of consensus estimates of $1.6 million.
AxoGen, Inc. is an emerging regenerative medicine company focused on the commercialization of its portfolio of proprietary products and technologies for peripheral nerve reconstruction and regeneration.
The company's portfolio of regenerative technology for peripheral nerve repair provides it an opportunity to participate in a market estimated to be $1 billion.
1Q12 revenue growth demonstrate increased penetration
AxoGen reported record revenues of $1.7 million, an increase of 47% over 1Q11 revenues of $1.1 million and ahead of FirstCall consensus estimates of $1.6 million. Increased penetration into the companies key accounts attributed to higher results. The company also continues to expand its sales force, which increased to 16 direct representatives and 21 independent sales representatives. From all indications, it is apparent that AXGN has begun to yield the benefits associated with a maturing sales force that is garnering traction in the market place - evidenced by increased volumes and revenues.
Gross profit increases 50% on improved operating efficiencies
The company also reported improved gross profit and margins of $1.2 million and 73%, respectively, which is an increase of 50% and 300 bps, respectively. The company indicated that the higher profits were the result of lower labor and manufacturing costs in conjunction with start-up costs during the first quarter of 2011 that did not occur during the first quarter of 2012.
Expansion of market presence will prove upside potential
AxoGen continues to expand its market presence nationally and internationally. The company recently announced expanding into the Austrian market, which should provide incremental upside to its existing installed base. According to the company, it will selectively continue its global expansion throughout Europe during the year.
In a market by itself; AxoGen's Avance technology AxoGen's proprietary Avance technology is a first-in-class, human tissue, nerve allograft product that is the only marketed nerve graft product currently available. This well positions the company to address a $1 billion dollar market opportunity that is currently being treated by autograft procedures.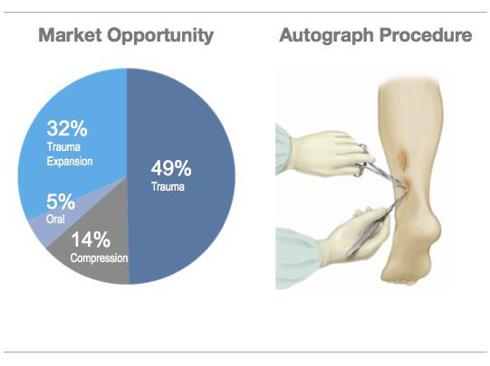 Autograft procedures, the current "Gold Standard" (shown above) treatment for peripheral nerve discontinuities, is a procedure whereby the patients nerve is retrieved from another part of its body and is used to replace damaged nerves. Complications stemming from these procedure generally leaves the patient without function and sensation at the harvested site. Furthermore, the procedure creates a secondary surgery on the patient to harvest the nerve. This can lead to chronic pain and wound healing complications as a result of infection. AxoGen's Avance technology mitigates these complications.
Current share price below analysts price targets
AxoGen shares closed at $3.79, which is below the analyst consensus of $6.25 and represents a 64% premium. AxoGen's one-month performance is +49%, which is significantly higher than its regenerative medicine peer group, Bacterin (BONE) -29%, Kensey Nash (KNSY) +36%, Organovo (NYSEMKT:ONVO) +28%, Cytori Therapeutics (NASDAQ:CYTX) +28%, InVivo Therapeutics (NASDAQ:NVIV) -7% and MiMedx Group (NASDAQ:MDXG) +7%.
Recent acquisition points to increased interest in regenerative medicine
The regenerative medicine space continues to be a sector of increasing interests to the Medical Technology and Biotechnology industries. Companies with innovative and commercially viable technologies continue to be cherry picked by mega-cap conglomerates such as Johnson and Johnson (NYSE:JNJ), Shire Pharmaceuticals (SHPGY) and Royal DSM (NYSE:DSM).
Kensey Nash , a medical device company primarily focused on regenerative medicine utilizing a proprietary collagen and synthetic polymer technology, entered into a definitive agreement with Royal DSM (OTCQX:RDSMY) to be acquired for $38.50 per share in cash. This represented a 33% premium and nearly 4.0 times 2012 revenue consensus estimates.
We expect M&A activity in this space to continue as companies with FDA cleared and approved technologies continue to demonstrate strong commercial growth.
Disclosure: I have no positions in any stocks mentioned, and no plans to initiate any positions within the next 72 hours.