Based in Cairo, Orascom Construction (OTCPK:ORSCY) is the largest and most liquid African stock north of Johannesburg thanks to the combination of its eponymous contracting business and a substantial chemical manufacturing operation.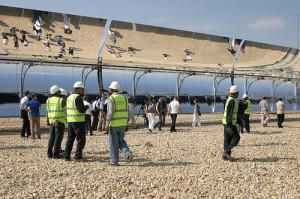 As the company streamlines its holdings, traders have an opportunity here.
ORSCY management — led by founding tycoon Naguib Sawaris — started talking back in January about spinning out the fertilizer company it bought two years ago.
For most Western traders, the political noise coming out of Egypt completely drowned out the story. But the negotiations with Egyptian regulators have continued and the company still seems determined to submit its final paperwork on May 17.
As with many corporate spinouts, the goal here is to liberate value for shareholders by clarifying the investment proposition that each segment of the enterprise contributes. In ORSCY's case, the fact that we are dealing with a global fertilizer manufacturer hidden behind a "construction" name and business tells the story.
Fertilizer stocks have a much more passionate market following than construction companies, so let's start on that side. How much is an independent Egyptian fertilizer company really worth?
On a top-line basis, we know that ORSCY sells roughly 5 times as much fertilizer as a mid-tier producer like Intrepid Potash (NYSE:IPI).
Exact profitability comparisons are tough, but Egyptian analysts have crunched the numbers and determined that the company's fertilizer business accounts for 70% of its overall bottom line, making it 4.4 times as big as IPI in those terms.
Taking IPI as our model, that would indicate a fair market cap of maybe $6.6 billion for ORSCY's fertilizer business.
Traders have already taken this into account, which is part of why ORSCY has soared 35% year to date, leading the Egyptian market to become one of the world's best performers in the process despite the country's political turmoil.
But we also know that this side of the business has been growing at a spectacular compound annualized rate of 85%, twice as fast as IPI. Factor in that accelerated growth opportunity, and ORSCY's fertilizer unit starts looking at least a little cheap again.
While it would be presumptuous and wrong to assume that double the growth rate as IPI should earn double the valuation, plenty of traders would probably agree that a post-spinout company merits at least some kind of premium.
In that event, anyone holding ORSCY before the split would be able to see their shares rise to their real value while cashing out the construction side of the company or keeping it instead.
Of course, once the split goes through, that market will be quick to price that premium in, so the trick is getting those shares before the final plan goes in front of the regulators.
ORSCY is liquid as far as Egyptian stocks go, but 2,000 shares a day isn't exactly enough turnover for everyone reading this to get a taste.
As a consolation, the stock is the biggest single holding in the Egypt ETF (NYSEARCA:EGPT) and the biggest truly "African" component of the Africa ETF (NYSEARCA:AFK) — British company Tullow Oil is first — at a weight of 9% and 6.5%, respectively.
Either of those funds will benefit from whatever value is left to be unlocked in ORSCY, albeit in much less concentrated form.
And speaking of unlocking value, ORSCY isn't exactly carving itself up for the public good here. While it's spent plenty of money augmenting the business it bought for $1.6 billion two years ago, spinning it out will give Sawiris and company another chance to cash out — and generate billions in cash to invest elsewhere.