My first long stock pick for 2008 is Cubist Pharmaceuticals, Inc. (CBST), a biopharmaceutical company focused on the research, development and commercialization of pharmaceutical products that address unmet medical needs in the acute care environment.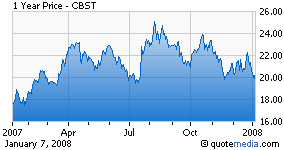 The Company focuses on developing products for the anti-infective marketplace. Cubist's flagship product, CUBICIN, is approved in the United States for the treatment of complicated skin and skin structure infections (cSSI) caused by S. aureus and certain other Gram-positive bacteria and for S. aureus blood-stream infections (bacteremia), including right-sided infective endocarditis caused by methicillin-resistant staphylococcus aureus [MRSA] and methicillin-sensitive staphylococcus aureus [MSSA]. CUBICIN has also been approved for marketing for complicated skin infections caused by various Gram-positive pathogens in the European Union, Israel, Taiwan and Argentina, and also has been approved for S. aureus bloodstream infections in Israel.
I like CBST on the intermediate to long term basis, but for the trader in you (and me), here's my short-term buy strategy starting yesterday, Monday January 7. CBST Buy stop at $20.43, stop-loss at $19.64, and take profit at $25.10 to $25.97.
Cubist 2007 EPS numbers showed strong growth with Q1 at 0.10, Q2 at 0.24, and Q3 at 0.32. Cubist current P/E is 26.53 compared to the biotech industry average of 49.91 and the S&P500 of 17.29. With a market cap at 1.13B, it's 95% institutionally owned. Quarterly earnings release will be January 23, at 12PM EST with a earnings conference call at 5PM.
Currently, Cubist's future success or failure is based on its approved antibiotic drug, CUBICIN. There are many successful one-drug pharmas. Like the others, Cubist is looking to acquire new drugs to fill out their empty drug pipelines and diversify away from a reliance on one drug.
With their attempt to infuse more drugs into their product pipeline, CBST exercised its option to buy Seattle's Illumigen Biosciences. The deal, and very cheap we think, originally announced in October, gives Illumigen $9 million in cash and up to some $330 million in milestone payments. We think the deal is very cheap for Cubist, and that it will not affect their balance sheet at all, with all the potential to add to their bottom line longer term.
Cubist paid $6 million in October for the option to acquire the development-stage company and its preclinical hepatitis C drug candidate. If all works out and the Illumigen drug gets approved to treat HCV, then Cubist will only have to pay up to $76 million in clinical trial and regulatory milestones for the drug. That's cheap for a marketed HCV drug.
The Illumigen drug is expected to start phase 1 testing this year, and then it will be another year or two before this drug goes to phase 2 proof-of-concept studies. The Illumigen drug is a protein and an interferon replacement product.
With many hepatitis C patients of all genotypes not responding well to even the most promising therapies like Vertex Pharmaceuticals' (NASDAQ:VRTX) Telaprevir, and some others, there should be room for new HCV drugs, even if their dosing is inconvenient or their efficacy worse than current therapies.
Disclosure: Author has a position in CBST