As economic environments enter contracting periods, investors are often hit with a one-two punch in the form of declining earnings coupled with smaller multiples on equities. This can have a devastating effect, specifically on names with high multiples and great expectations. The main problem is that there is so much optimism surrounding these growth names that reality becomes a very different picture than the expectations ingrained in the stock price. For names that see their earnings multiple decline from 60 to 30, one can expect a 50% loss which is enough to damage any investment program.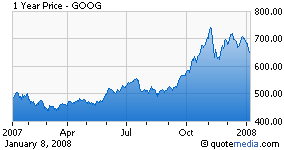 My fear is that Google (NASDAQ:GOOG) fits into that category. Now, I know that I will receive more than my share of critical comments and emails after posting a negative piece on the company, but that just helps to cement the fact that the stock is widely held and favorably viewed on Wall Street. This is not a poor characteristic, but when taken out of balance, widespread loyalty to a stock can lead to prices that are out of line with the true economic value of the future cashflows of the business. This does not mean that I expect Google to cease to be profitable. Only that I am questioning how much that future profitability is truly worth.
As we enter 2008, the volume of those expecting a recessionary environment is getting louder and louder. I find it very interesting that we have given up all of last years gains in the first three trading days of 2008 and although the markets will almost certainly recover some of those losses this week, much damage has been done to investor confidence. Since perception can actually affect the broader economic environment and certainly has power over market prices, it is important to understand that a diminishing amount of confidence will have an effect on ad revenue as advertisers begin to tighten their expense belts in order to survive a more difficult period.
Analysts are calling for a 33% increase in earnings over 2008, which I fear may be too optimistic. The company has been very talented at finding new sources of revenue but Wall Street has only been watching Google during the last half of 2004 and following. This period has been one of economic expansion and growth which fits well with the business model of offering advertising in many ways shapes and forms through digital content.
It is amazing how quickly Google has built an empire of media outlets, but at the end of the day, this enormous platform brings in the majority of its earnings through serving ads to potential buyers. If the spending power of those buyers both domestically and around the world becomes more constrained, Google will have a harder time making the case for premium pricing on its inventory when selling to its clients.
The market appears to be pricing in a long-term growth rate of roughly 30%. While that may still be possible over the next year - maybe even the next two years, I have my doubts as to whether a company which did roughly $15 billion in sales the last 4 quarters and carries a $200 billion dollar market cap can continue to grow at such a rate for very long. Very soon, the company should begin to bump into more and more constraints that will bring the rate of growth to a more reasonable long-term level. It is almost certain that when this begins to be recognized by the investing public, stock prices will begin to decline as growth investors transition into new names. At that point, Google should begin to trade based on a fundamental analysis of the long-term earnings power of the company.
Looking at the technical picture, the stock has broken below the 50 day average on increasing volume as investors began to pull the plug on Friday. The price drop is not as drastic as the decline from back in November when investors dumped the stock in disappointment over the fact that Google had not yet created the "G-Phone" which was widely expected. However, a series of lower highs and waning relative strength implies that the time may be right to begin building a short position in the name. A bounce in the overall market may give traders a better short entry point this week, although I do not expect this next move higher to last for a significant period of time.
Full Disclosure: Author does not have a position in GOOG.