Gold is getting hammered - first by the crushed hopes for QE3 in late February and now by the EU debt crisis and weakening economies within India and China. These factors combined this week to push traditional gold ETFs into negative territory for 2012. At the same time short gold ETF products have benefited, with most generating positive double digit returns over the last month. Before examining the short gold ETF list and performance however, let's review gold's drop. Gold has been on a downward trend since late February and is now getting close to its 12 month low. Here's the one year chart of the largest gold ETF, GLD, from stockcharts.com.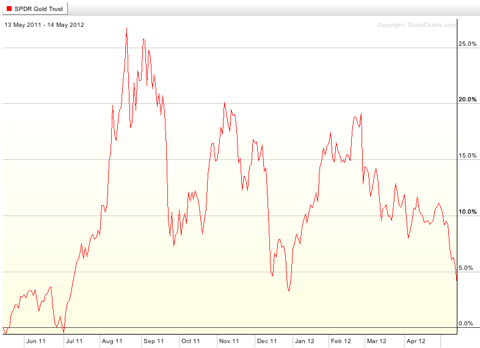 Click to enlarge
(Click to enlarge)
There are five products in the short gold ETF and ETN arena that take advantage of a decline in gold prices or gold mining stocks. Here's the list from GoldETFs.biz.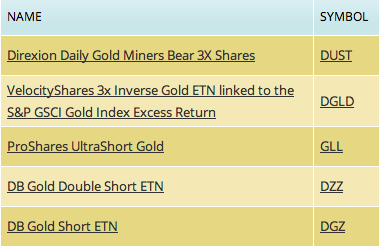 Of these products the three that standout in assets an volume are DGL, DZZ and DGZ. These products individually have between $40 - $150 million in assets and trade between 100,000 - 900,000 shares daily. DUST receives an honorable mention for its 200,00 average daily volume despite having less than $10 million in assets.
It's important to understand that short gold ETF and ETN products are generally designed for use over a single day and need constant monitoring. In addition, most of these products use leverage which increases volatility. Here's a quick breakdown of the short gold ETF and ETN list sorted by the inverse daily factor. As always, be sure to read a prospectus before investing in any product - especially short ETFs and ETNs.

These ETF and ETN products have generated gains of 4% - 41% over the last month. In fact, to conclude here's the recent performance grid snapshot showing all short gold ETF and ETN products.

Click to enlarge
(Click to enlarge)
Disclosure: I have no positions in any stocks mentioned, and no plans to initiate any positions within the next 72 hours.