A quick update on American Capital Strategies is in order as the recently posted report was written in September 2007.
As expected, ACAS did take a writedown on net asset value [NAV] down from $35.54 to $34.92. There was some grumbling over at thestreet.com about whether this writedown was adequate due to subjective valuation by management on their ECAS stake. As ECAS is traded on the London exchange, there is a readily available market price but management chose to value it with a control premium. That along with currency effects allowed ACAS to show a small appreciation on ECAS which thestreet.com asserts should be a $200M writedown.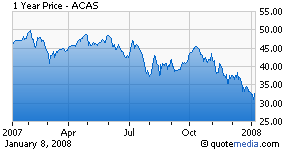 The Motley Fool has a nice rebuttal to this argument. By their numbers, assuming a writedown of $310M to account for their ECAS investment and CDO/CMBS exposure (7% of total portfolio and performing quite well currently despite the noncash writedowns), NAV drops to ~$33 per share or slightly above current share price of $32.96.
In this debate, I have to admit the Fool's argument is more convincing. Here's my mostly favorable impression of ACAS' fundamentals:
1. They sold 17% of their broad equity portfolio to a new fund, American Capital II LP, managed by a subsidiary. The pricing at 3% discount to NAV barring any valuation adjustments at year-end and the investors involved (AIG Investments, the asset management arm of American International Group, Inc. (NYSE:AIG), led the investor group including Landmark Partners, Paul Capital Partners, Lehman Brothers Secondary Opportunities Fund and SVG Advisers Limited) suggest a strong vote of confidence in American Capital's reputation and diligence. Keep in mind, there was no cherry-picking of the portfolio and that ACAS itself has no stake in this new fund.
2. The company announced a change to its dividend policy where it will now be paying out dividends out of long-term capital gains. My impression is that management was conceding that ordinary income growth will be slowing in the near-term and they took this step to maintain the dividend growth trajectory. While it suggests weakness in the near future, I like management's proactive stance toward protecting and growing the dividend. Their success in this task during the last cycle downturn was impressive and there's nothing to suggest they aren't better positioned this time around to repeat that performance.
3. During a nasty credit crunch, ACAS was actually able to increase liquidity in Q3, raising $1.7B during the quarter through a mix of debt, equity and transactions. They lowered their debt:equity ratio to 0.68 from 0.82 at the start of 2007 and are in great position to take advantage of widening credit spreads and increased deal flow in the middle market, which has escaped the carnage afflicting the big-game M&A market. This should help mitigate increasing loan non-accruals as bad loans roll off and are replaced by higher-yield issues stress-tested for recession conditions.
4. Non-accruing loans have risen to 5.5% of all loans from 4% at the start of 2007. Expect this number to keep rising but management does not have rose-colored glasses on about this, which is reassuring.
5. The asset management segment results dropped off pretty significantly from last quarter, mostly as a result of a slowdown in buyout transactions. Management reiterated the lumpy nature of fees earned from this activity.
Historically, ACAS trades around 1.3 to 1.5 times book value. Right now, it is trading under 1.0, even with the extra $310M pro-forma writedown. CEO Malon Wilkus sounds like he's positively salivating in these current credit conditions on conference calls and in interviews and as Herb Greenberg points out, betting against Wilkus has been a losing proposition in the past.
Here's what I'm tracking for future performance measurements:
YE 2007 NAV @ $33.50 to $35.42 per share
Q4 2007 NOI @ $0.79 to $0.84 in NOI per basic share
2008 dividend payment of $4.19
Widen credit spreads throughout the current crunch
Manage the inevitable loan portfolio degradation
UPDATE:
A few quick notes:
American Capital, yesterday morning (01/07/2008), announced a $500M share buyback and the stock is seeing a nice bounce as a result. While I'm in the camp that feels that buybacks are a ultimately a disservice to shareholders, this buyback combined with management actions to protect the dividend demonstrates the company's commitment to shareholders. I think the $500M could be better served in bolstering the portfolio but it does demonstrate confidence in results going forward (as they now have less cash in reserve to maintain the dividend) and shows that Wilkus and co. think ACAS stock is way too cheap.
They also updated guidance, raising the lower-end of their guidance for Q4 to $0.81 - $0.84, up from $0.79 - $0.84. Analyst estimates are for $0.81 so there's a good chance of an upside beat to Q4 2007 results.
Last week, the company announced another portfolio exit to the tune of a $45M gain, thus demonstrating management's point that the middle market remains open for business despite the credit crunch.
Disclosure: None.