Below is a summary and brief of Sino-Global Shipping America, Ltd. (NASDAQ:SINO), a thinly traded potential steal at these levels, considering the company's future potential. The stock seems to frequently have random days of unexplainable double digit percentage gains and the occasional double digit loss. The company seems to be suffering from lack of exposure, as a good number of investors and CFAs I speak with regularly have never heard of the name.
The Chinese shipping company has failed to turn a profit in several consecutive quarters, but given the right conditions, Sino-Global is as well positioned and ready to take advantage of any opportunities presented to generate revenues. The company's stock is trading just above its book value. With 2.90M shares out, it currently trades around $2.40, giving it a market cap of just over $700M. The reported short interest as of 04/30/12 was 29k shares, with little institutional ownership to speak of.
(Click to enlarge)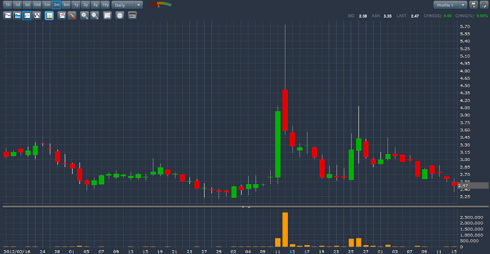 Financial Synopsis and Company Description
For the six months ended 31 December 2010, Sino-Global Shipping America, Ltd's revenues increased 34% to $17.3M. The net loss totaled $256k, against a profit of $61k. Revenues show increased income from ops. The net loss reveals increased cost of revenue, higher general and administrative expenses, increased selling expenses and lower financial income.
The company coordinates its clients shipping needs, including preparing documents. It is a general shipping agency service provider in China, with branches in Ningbo, Qingdao, Tianjin, Qinhuangdao and Fangchenggang, China.
It also has offices in the U.S. in Flushing, New York, Perth, Australia and Hong Kong. Through these offices, it coordinates its clients' shipping needs, including preparing documents, husbanding vessels, working through customs issues, coordinating matters with port authorities, overseeing and settling cargo claims, tracking shipments, recommending trucking, warehousing and complementary services.
(Click to enlarge images)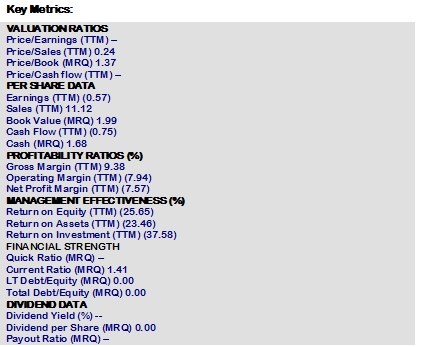 Summary
We believe this company to be undervalued at this time and considering a general global economic turnaround, that Sino-Global has the potential to turn a profit and maintain profitability for many more years to come. The stock is currently trading 74% below its 52-week high of $9.16 and over the last three months, we have noticed several large block purchases that boost the share price by as much as 12-15% per day. This item, among others, underscores our fundamental beliefs about Sino-Global's future potential. We maintain a "buy" rating and reiterate our one-year price target of $5.50, or a sharp 130% increase from today's levels.
As with all thinly traded stocks, there is an inherent risk of not being able to get out of the position in a hurry if you need to. Many thinly traded stocks are highly volatile as the number of market participants is typically low and there are often wide spreads between the bid and the ask.
Some of the potential risks to owning the stock:
General lack of liquidity and unexpected decrease in revenues due to global economic circumstances. For more information on the company's stated risks take a look at its prospectus, see here.
Disclosure: I am long SINO.
Additional disclosure: Information sourced by NASDAQ, Google, Reuters, TD Ameritrade and Market Edge.