Earlier this week I sold MSM and PTEN and replaced them with Hardinge (NASDAQ:HDNG) and Team, Inc. (NASDAQ:TISI). I'll go into some detail here about HDNG and my rationale. I had written that I felt like I was getting the steal of a lifetime with HDNG and, the Investing Gods read that and promptly smashed it into the ground. Such is life.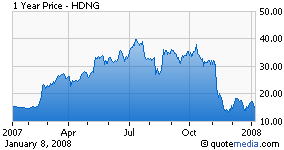 Hardinge, founded in 1890, makes a variety of material cutting tools (lathes, chucks, grinders, millers) for industrial use. It's customer base is diverse (aerospace, consumer goods, construction, defense, energy, pharmaceutical). Sales are roughly 75% from Europe and North America, the balance in Asia and elsewhere.
Price to earnings, sales and book are 8.5, .56 and .85 respectively. PEG Ratio is .27, EBIT/EV is about 5, debt-to-equity is about 11% and y-o-y quarterly earnings growth is about 35%. These multiples are all meaningfully lower than HDNG's competitors (ATU, KMT). HDNG's has slower revenue growth and smaller gross and operating margins than those competitors also.
But HDNG got bludgeoned on its earnings announcement (+35% is a "miss" on Wall Street since it was expecting +40%, sending shares down 35% in a day). Institutional and hedge fund ownership is high so if a big player wants out it could get ugly quickly. It's not a preferred hedge fund short, so the stock is not hopelessly manipulated (a legitimate concern in small cap investing, BTW).
In short, HDNG has:
A diversified customer base (sector and geography)
Growing earnings
Cheap multiples
A boring business
Welcome to the party, HDNG.