UBS AG has shown up on Fidelity's stock ownership and insiders list as having taken its stake in Sirius XM (NASDAQ:SIRI) to 233.4 million shares as of the end of Q1 on 3/31/2012.
This places UBS AG (NYSE:UBS) as the largest institutional holder of Sirius XM according to Fidelity's data, ahead of the previous largest holder, Wellington Management. It also raises some questions in my mind relating to the recently announced forward agreement Liberty Media (NASDAQ:LMCA) has to purchase 302 million shares from an undisclosed third party by July. Message boards have run rampant with speculation as to who the mysterious third party could be, and my assumption, based on this data, is that it is UBS.
There has been some history between Sirius XM and UBS in the past. The most notable being that UBS was one of the three writers of the $1.875 convertible notes Sirius XM entered into back in 2008 which effectively tanked the stock and started it on a plunge down to $0.05 per share. Referring to the chart below you can see the circled areas, and the volume and price depreciation that occurred within the few days surrounding when the notes were signed.
(Click to enlarge)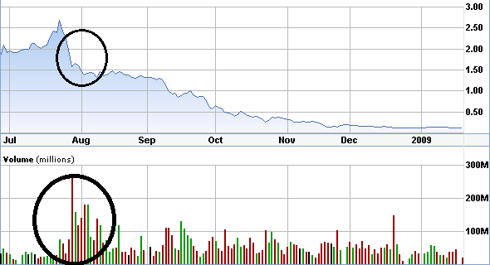 There has also been speculation that the deal Liberty Media has is directly with the current holders of these bonds, either in whole or in part. Given that UBS has increased its stake to 233.4 million shares, and it is one of the original writers on the bonds, it's reasonable to believe that this speculation does have some merit.
What does this mean for investors? It's a possible answer to the question of who the forward party is in the agreement with Liberty. If these shares are reserved for this forward agreement, then from an investment standpoint the news of the stake is "nothing new" as they will eventually be Liberty's shares, and investors already know that.
But what if these are not shares reserved for the forward agreement with Liberty? They could also be a new position by an institution because they see price appreciation coming for the stock. The data on Fidelity's page indicates 50.7% institutional and mutual fund ownership of Sirius XM which is up significantly from last quarter's number around 42%. Liberty Media's purchase of 60,000,000 shares last week is also a significant recent investment in the company, trumping all insider sales in the past two years for a net positive of $27 million. All things in combination seem to be pointing to a bright future, despite the current bearish action in the share price which I view as an amazing buying opportunity, much like the $1.40s were last year.
All eyes interested in Sirius XM or Liberty have been glued to the developments surrounding the two companies lately. It's now quite possible that UBS AG has fallen into place as a piece of the puzzle.
Disclosure: I am long SIRI, LMCA.
Additional disclosure: I am long SIRI June $2 calls.