The five companies covered in this article have an average earnings per share (EPS) growth projection for the next year of over 73%. A company's EPS is conceivably the most important statistic to understand before investing in a stock. Each time you consider starting a position in a stock, you should prudently scrutinize its profitability EPS information. The reason earnings are so vital to investors is that they tell you about the relative profitability of a company. EPS is the most important derivative of profitability for a shareholder.
Additionally, our five stocks have share prices trading under $10. Stocks trading for under $10 often tend to have increased volatility. However, as we all know, the higher the risk, the higher the reward. The stocks selected are S&P 500 stocks with market caps of more than $2 billion. We use a speculative screen to find companies that may provide more bang for your buck.
Finally, the shares are trading well below their consensus estimates and 52 week highs. The companies are trading on average 37% below their 52 week highs and 64% below their consensus analysts' estimates. These stocks appear undervalued to me. We are in the midst of a sell off based on macroeconomic and geopolitical issues. Often, this is precisely the time to pick up shares in out of favor stocks with strong fundamentals and catalysts for future growth.
Now, simply screening for S&P 500 stocks with high EPS growth rates, share prices under $10 and trading significantly below consensus and 52 week highs is only the first step to finding winners that may provide alpha. In the following sections, we will take a closer look at these stocks to determine if the price is justified. We will perform a brief review of the fundamental and technical state of each company. Additionally, we will discern if any upside potential exists based on sector, industry or company specific catalyst. The following table depicts summary statistics and Tuesday's performance for the stocks.
(Click to enlarge)

LSI Corporation (LSI)
(Click to enlarge)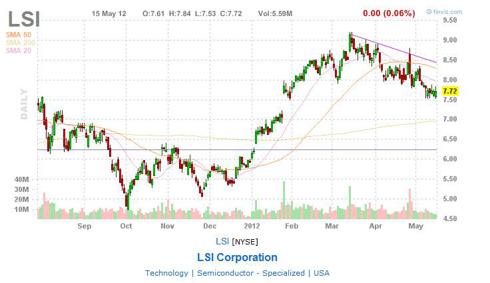 LSI ended the day down 1.55% at $7.59. The stock has a projected EPS growth rate for next five years of 16.38%. The company is trading down 17.39% from its 52 week high and 52% below its consensus price target of $11.50. LSI has a rock-solid balance sheet with over 20% of market cap in cash. LSI has a five year projected PEG ratio of .67. Analysts are expecting greater than 20% sales growth in FY2012. During the latest earnings call, the company raised quarterly revenue guidance to $585 to $615 million, up from $550 to $590 million previously.
The stock has been in a short term downtrend since mid-March and broken through the 50 day SMA. Currently, LSI is trading 9% above its 200 day SMA. The 200 day SMA should provide substantial support for the stock. I would wait for the stock to test the 200 day SMA prior to starting a position.
Micron Technology Inc. (MU)
(Click to enlarge)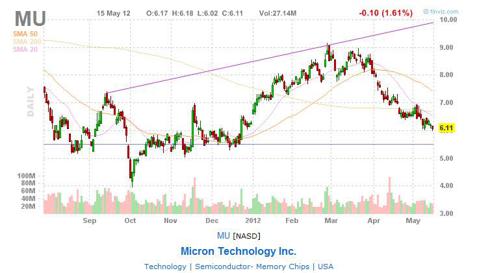 MU ended the day down 3% at $6.02. The stock has a projected EPS growth rate for next year of 200%. The company is trading down 44.62% from its 52 week high and 79% below its consensus price target of $10.72. MU is trading at 75% of book value and has a forward PE ratio of 9.87.
The big catalyst for Micron is the potential acquisition of defunct competitor Elpida Memory. Micron has confirmed at least part of the chatter, saying it is indeed in talks to acquire Elpida Memory. No official word on media reports that Micron has offered more than ¥200B ($2.5B) for the bankrupt Japanese chipmaker. Analysts see this acquisition as a positive catalyst for Micron. The acquisition will consolidate the DRAM market and hopefully stabilize pricing. Micron has recently broken below its 200 day SMA. This is not a bullish sign. I would wait for the news to come out regarding the Elpida acquisition and buy start a position once the stock breaks back through the 200 day SMA, which is now resistance rather than support.
Sprint Nextel Corp. (S)
(Click to enlarge)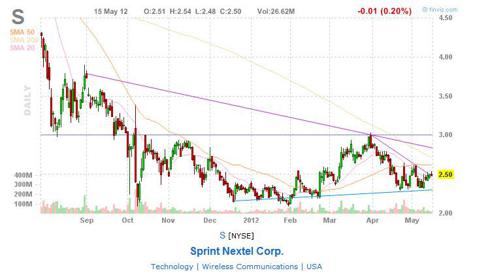 S ended the day down 1.2% at $2.49. The stock has a projected EPS growth rate for next year of 29.90%. The company is trading down 61.71% from its 52 week high and 69% below its consensus price target of $4.20. S is trading at 70% of book value.
A major catalyst for Sprint is a recent contract it signed with the Western States Contracting Alliance (WSCA). Sprint has won a contract with the WSCA to become one of several providers of telecom services covering 15 states including Alaska, Hawaii, California, Minnesota and South Dakota. The alliance, made up of mostly state and local government agencies such as emergency services, healthcare and public education along with several non-profit organizations, provides telecom services these entities might not have been able to afford if purchasing on their own through cooperative financing and purchasing.
Sprint's stock has been consolidating since mid-April in the $2.50 range. I see this as an opportunity to start a position at this level.
SandRidge Energy, Inc. (SD)
(Click to enlarge)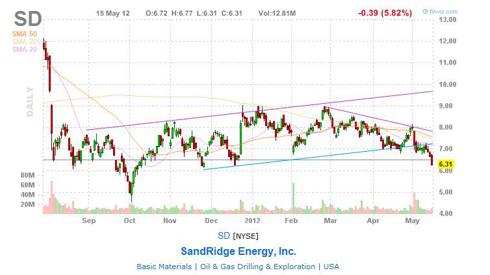 SD ended the day down 7.46% at $6.20. The stock has a projected EPS growth rate for next year of 94.44%. The company is trading down 49.84% from its 52 week high and 72% below its consensus price target of $10.60. SD is trading at nearly two times book value.
Analysts expect earnings to grow exponentially over the next two years. In a recent interview with Seeking Alpha, CEO Tom Ward stated he expects to triple the stock price in three years. The stock is selling for less than seven times cash flow.
SandRidge is oversold using the Relative Strength Index (RSI). A stock is considered to be oversold if the RSI reading falls below 30. Even so, I would wait for a change in the recent trend prior to starting a position. The stock has broken through the 50 and 200 day SMAs and is not exhibiting any changes in the near term trend. I am disappointed with the stock's recent performance. I remand bullish on the long-term prospects for the stock and am looking for some semblance of a bottom to start a position.
Regions Financial Corp. (RF)
(Click to enlarge)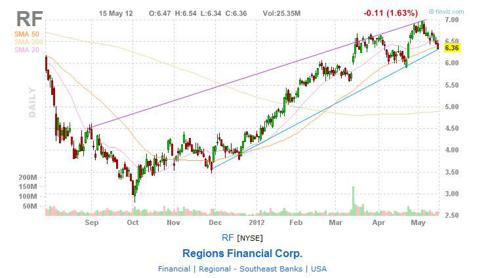 I am bullish on Regions in the long-term, nevertheless after the recent news came out about JPMorgan's $2 billion dollar snafu, I am steering clear of all financial stocks. I know Regions does not have the same set of exposures as the large global money center banks, but I don't see a clear positive catalyst for the financial sector right not. I believe the rest of the year will be filled with headlines regarding banking regulations. I am avoiding the financial stocks for the foreseeable future. Global money center banks haven't found a bottom yet and regional banks will be dead money until the issues are resolved.
Conclusion
These stocks have positive catalysts for future growth, are trading at significant discounts and have positive future EPS growth rates. Sprint looks good at this level. SandRidge, Micron and LSI need to improve somewhat technically prior to starting a position. I like Regions, but believe it is unfairly going to be stagnant along with the rest of the banking sector until the regulatory issues are cleared up.
Use this information as a starting point for your own due diligence and research methods before determining whether or not to buy or sell a security. If you choose to start a position in any stock, I suggest layering in a quarter at a time on a weekly or monthly basis to reduce risk. If you want to minimize losses even further consider setting a 5% trailing stop loss order as well.
Disclosure: I have no positions in any stocks mentioned, but may initiate a long position in S over the next 72 hours.