Ongoing uncertainty surrounding how ACE Aviation Holdings Inc. [ACE.B/TSX] will eventually unwind itself is expected to wreak havoc on Air Canada's (AIDIF.PK) stock in the near term.
"Although we believe that fundamentally the stock is worth more than the current share price, we maintain our "hold" rating on shares of Air Canada," Versant Partners analyst Cameron Doerksen wrote in a note to clients Tuesday.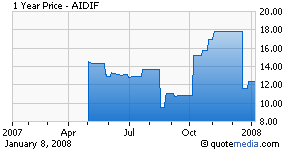 ACE has said it plans to unwind itself by the spring either through distributions, a share buyback, or an outright sale of its remaining interest in Air Canada, Jazz, Aeroplan, and ACTS. However, it has yet to further clarify how it will do so, which has spooked potential investors in Air Canada.
"We believe that in the near-term the fundamentals for the company are largely irrelevant as the market speculates on what ACE will do with the 75 million shares of Air Canada it still owns," Mr. Doerksen said.
If ACE decides to sell the shares in a secondary offering, he said the stock should remain weak or even fall further. However, if the parent company decides to buy back the remaining 25 million shares it doesn't own, which management has indicated is not necessarily the preferred option, then the stock will likely rally.
"Until there is more clarity on this issue, we expect the stock to remain volatile," Mr. Doerksen said. He dropped his price target from C$17 to C$14 a share accordingly.