Kinross Gold Corp.'s (NYSE:KGC) more than 7% rise on Toronto and New York markets on Tuesday was no doubt being viewed as a step in the right direction by RBC Capital's Stephen D. Walker. Earlier in the day the analyst had said that Kinross' low current valuation makes it a sitting duck.
He told clients in a note that any one of Barrick Gold Corp.(NYSE:ABX), Newmont Mining Corp. (NYSE:NEM), or Goldcorp Inc. (NYSE:GG) could pull the trigger on a takeover bid for Kinross, citing first and foremost the company's significant 25 to 35% valuation discount on its 2009 cash flow estimates.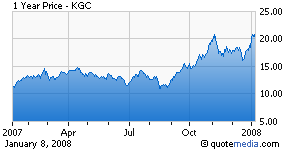 Mr. Walker also noted the company's estimated 76% production growth over the next two years and the development upside at Cerro Casale, a joint venture project with Barrick, as further rationale for an offer to emerge.
In a note to clients the analyst wrote:
With production growing from an estimated 1.6 million ounces in 2007 to 2.8 million ounces in 2009, Kinross is in an enviable position among the Tier 1 producers (along with Goldcorp), with strong forecast growth in production, earnings and cash flow.
He added that given the to-date success at the Kupol mine in the Chukotka region in far east Russia, Kinross could also become a partner of choice for Russian mining companies to bring projects into development.
Mr. Walker increased his price target on Kinross shares from $22 to $24.50, but noted a successful ramp up at both Kupol and Paracatu [in Brazil] could result in higher growth multiples and a price target somewhere in the range of $31 per share.