Wow, Apple really got slammed today as I happened to be doing some research on the stock, so here are some things to consider as you watch the stock trade into what I consider to be the bargain basement.
Short-term: Volume and volatility low
Back on May 4, I wrote that volume in Apple (NASDAQ:AAPL) had seemed to dry up. In March and April, average daily volume was about 26 million shares, but the average volume in May so far is only about 16 million, roughly 30% less.
Yet with Apple down into the 540s, the volume was less than 20 million today. So if you're looking for some type of "capitulation" type event, I don't think you've seen it yet. And that means the stock could fall more.
And take a look at this chart of Apple VIX (VXAPL) compared to the "regular" VIX.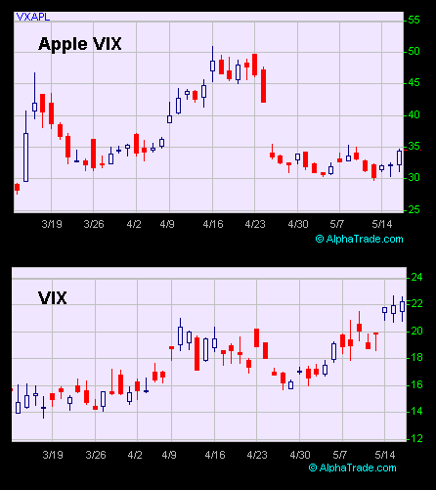 With the VIX way past 20, you'd think that Apple's implied volatility would be soaring, but it's been relatively sedate in comparison. I'd like to see it break below 30, but the mid 30s isn't excessively high considering the stock is down below that $555 low set just before the April earnings release.
Anyway, that's short-term stuff. Let's look at some factors that may influence the stock in the coming months and years.
Mid-term: Watch for the pending dividend
I happened to be looking at Bloomberg and noticed this.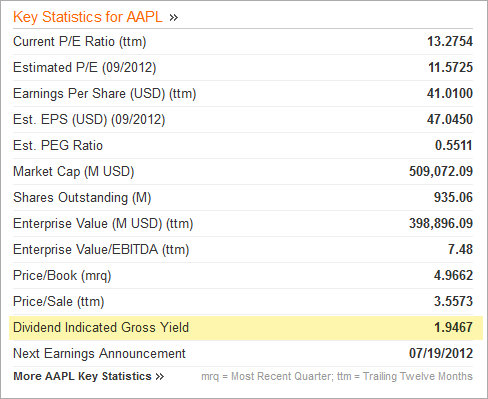 I highlighted the part that shows an indicated gross yield of about 1.95% with the stock at around $544. I didn't see any yield noted on Yahoo! Finance, MarketWatch, or CNBC. So in many investor's eyes, the stock appears that it will yield nothing.
A nearly 2% yield on a stock like Apple is an attractive payout - and it's not like the company can't afford it. Will dividend investors and fund managers dip their toes into Apple? Yes, I think they will. And the stock would yield 2% at a price $530
That's pretty close to what Andy Zaky predicts as one of the two support points he noted in a recent Forbes article on "how low Apple could go"
The two key levels of support for Apple's stock in the intermediate term are $537 (32.8% retracement) and $503 (50% retracement) a share. We believe Apple presents with a unique buying opportunity at $537 and an extraordinarily rare opportunity at $503 a share. While we don't believe the stock will ever see $503 a share, if Apple does reach that level, it would be the equivalent of $310.50 in June 2011 or $80.00 a share in March 2009.

Investors tend to overcomplicate things. Apple will undoubtedly see $750 a share by January 2013 and will likely see $1,000 no later than the fall of 2013.
Long-term: High return on invested capital
I was also reading David Trainer's article on Apple's return on invested capital (NASDAQ:ROIC) and ran a screen on YCharts.com on this metric, which can differ depending upon how you calculate the data. Per YCharts:
ROIC is an acronym for "Return on Invested Capital", and it is a concept that doesn't have a fixed definition. In YCharts, it is the net income that a company earned as a percentage of all of the capital given to a company by shareholders and debt holders. It is a ratio that tries to answer the question: "If I gave $1 to this company, how much money could the company earn by investing that $1?" A ROIC of 5% means that the company can return $0.05 per dollar invested.
Apple's return on invested capital is above 48%. So how many companies are there with a market cap of more $5 billion and an ROIC of more than 45%? According to YCharts, there are only 10, Apple among them: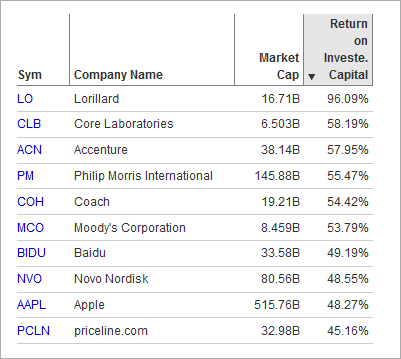 And looking back on the data provided by YCharts, the company has definitely grown its ROIC over the years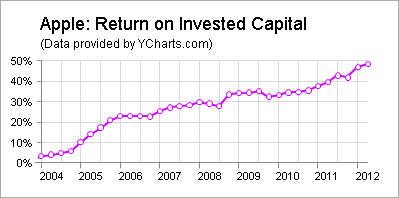 Don't make things complicated
So in the really short term (like today), Apple may seem to be a stock that everyone's dumping. But is that really the smart money?
I'm going with Andy Zaky's advice in that Forbes article:
We believe the best thing to do is just to go in and buy now, ride any potential drawdown to $537 a share, ignore all of the nonsense you are likely to hear on the way down and beat Wall Street by being smart enough to realize what they often do not.

And that is the fact that Apple will inevitably sell 100 million iPhones a quarter within the next few years. When that happens, Apple will be trading far north of $1,000 a share. Who cares about a $30 - $50 drawdown when there is over $500 in upside for the stock over the next year or so. Don't make things so complicated. Just go in and buy.
I tend to agree -- and buying a little on the downdrafts. Unfortunately the "smart" guys on Wall Street do not seem to agree. But selecting stocks is always about disagreeing with someone else. And sometimes it pays to be disagreeable.
Disclosure: I am long AAPL.