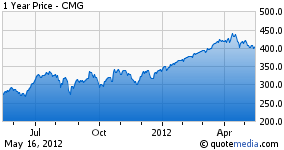 In the Internet community, almost everyone agrees that Chipotle (NYSE:CMG) is overpriced by a large margin. The company is worth over $10 million per restaurant, and investors are currently paying $55 for every $1 the company earns. Even if the company achieves a growth of 20% annually for the next 10 years, it will still be overpriced for the most of those 10 years if not all. Then why are analysts so positive about this company?
Currently, of the 21 analysts covering the stock, eight rate it as "buy," 11 rate it as "hold" and only one rates it as "sell." The price targets for the company range from $400 to $500, with average price target being $453. The average price target indicates an upside of more than 10% for the stock price as it currently trades for $403. Where does all this optimism come from?
Let's look at S&P's latest research report regarding CMG:
"We believe revenues will rise 23% in 2012…."
These numbers are very possible, however, I don't think they will translate into earnings growth. For example, Amazon (NASDAQ:AMZN) achieves impressive revenue growth too, but this doesn't necessarily turn into earnings growth. Increasing commodity and labor costs will definitely cut into Chipotle's profits in the long run. Currently the company has an operating margin of 16% and net profit margin right under %10 and these numbers don't really impress me. For example, McDonald's (NYSE:MCD) has an operating margin of 32% and profit margin of 20%. Chipotle should have much higher margins given its low variety of food choices and lack of costly decorations/furniture in its restaurants.
"We believe CMG will continue to post same restaurant sales growth above peers, given the perception of its higher-quality food and the overall newness of the concept."

"We estimate same-store sales growth of 9% in 2012 ..."
CMG is usually applauded for its same-store sales growth. However it is not sustainable in the long term. I don't think many restaurants can achieve same-store sales growth near 10% for more than a few years. Having perception of quality is good; however it may not be the end of the story. Chipotle's business model is easily replicable, which means it wouldn't be too difficult for new competition to emerge with a similar business model. The competition could come from either local restaurants or other restaurant chains.
"In addition, the company expects to open 155 to 165 new restaurants in 2012."
The company already opened most of its restaurants in the prime locations in big cities. The restaurants opened after 2012 will be mostly in less than prime locations. In restaurant business, location is very important for growth. This is why these restaurants may not be as successful as the restaurants opened in the last few years. Currently many Chipotle locations are near business districts of big cities and many workers prefer Chipotle for lunch breaks. This may not be the case in areas where there isn't much business activity going. Also, opening too many stores at once might cause multiple Chipotle restaurants to start competing with each other.
"We think CMG has significant growth opportunity in international markets as well as further penetration in the U.S."
So far, Chipotle didn't show much presence outside of the U.S. The company tried to open some restaurants in Canada and the U.K., but so far they didn't meet half the demand they did in the U.S. The company will have to present more than one menu item to gain attention in many markets outside of U.S., which might mean that it will have to change its business model significantly in international markets.
"We also think higher food costs will be offset by menu price increases ..."
One of Chipotle's strengths was its cheap prices. If the company raises its prices, it will probably lose a lot of business to competition. Competitors like McDonald's and Yum (NYSE:YUM) have been very careful about raising prices over the years and I don't think Chipotle has much room to operate in this aspect either.
"We project EPS of $8.86 and $10.77 in 2012 and 2013, respectively, compared to $6.76 in 2011."
Analysts expect Chipotle to have a higher EPS growth than its revenue growth. This will require margins to get significantly better. Even if such EPS growth materializes and Chipotle's stock price remains flat, we are still looking at a P/E ratio of 37 by the end of 2013. If Chipotle's stock price moves to $500 by 2013 as per analyst expectations, then we will look at a P/E ratio of 46 by the end of 2013.
By all means and measures, Chipotle is overpriced. I don't know how long it can keep going up, but remember that the market can remain irrational for much longer than many of us can remain solvent. At the end of the day going either long or short with Chipotle are both speculative plays.
Disclosure: I have no positions in any stocks mentioned, and no plans to initiate any positions within the next 72 hours.