By Brian Sozzi
On January 7, Stanley Works (NYSE:SWK) issued updated financial guidance for 4Q and preliminary outlook for 2008. Due to an unfavorable litigation resolution related to Bostitch during 4Q, the Company will record a one-time charge of $0.04 per share. Management's guidance assumption, including this charge, was revised lower to a range of $1.06-$1.11 per diluted share from $1.10-$1.15 per diluted share. We are maintaining our 4Q earnings per share estimate of $1.10, which excludes the one-time charge. Management noted that total sales growth is planned at 14.0% for 4Q, significantly above the 8.0% prior expectation. In our view, this differential is reflective of the impact of the weak U.S. dollar versus foreign currencies benefiting Stanley Works, specifically as it pertains to sales from Facom Tools.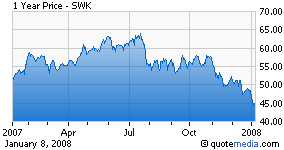 Serving as an interesting sidebar, Stanley Works acknowledged that its 2008 earnings per share guidance "reflect management's expectation of a subdued economic environment, including a possible mild and short lined U.S. recession." The Company is the first hardline goods manufacturer/retailer to openly acknowledge the prospect of a U.S. recession and, subsequently, to factor it into their 2008 financial modeling. Management has estimated diluted earnings per share of $4.20-$4.40 in 2008, below the current consensus estimate of $4.49, representing a projected 5.0%-11.0% increase year over year. Our forecast model assumed an earnings per share reading in line with consensus, but given the range now provided, we are revising our EPS estimate down to $4.30 per diluted share.
We downgraded our rating on shares of Stanley Works to Sell on December 18, citing increased earnings risk going forward due to continued deterioration in U.S. housing market fundamentals. In light of management's 2008 financial guidance, it is our opinion that a material valuation overhang has been removed. The Company's expectation of a mild U.S. recession, should it not arise, hints at possible sales and earnings per share upside in 2H`08. Even if the U.S. does slip into recession (or is in one currently), management has appropriately calibrated the market's expectations. Aside from the issue of guidance, in our view Stanley Works continues to out execute competing manufacturers of hardline goods based in large part to its leaner expense structure and growing exposure to overseas economic activity by way of recent acquisitions. Assuming modest multiple contraction medium-term, the shares could support an equity per share price of $47.00 based on the attainment of our $4.30 earnings per share projection. As a result, we are upgrading our rating to Hold with a $47.00 price target.
Disclosure: Author has a long position in SWK