Shares of drug retailer and my employer Rite Aid (NYSE:RAD) have been under considerable pressure during the last year, plunging from just below $7/share to their current level near $2/share. Glancing at a 10-year chart of Rite Aid reveals several previous occasions where the stock tanked to around this level, providing investors and traders with the opportunity to earn returns of 2X to 5X their money as the stock subsequently rebounded to the $5 to $10/share level. Whether the current downturn in Rite Aid will provide similar returns remains to be seen, but overall market weakness, economic uncertainties, and a huge increase in the short interest of the Company at the end of December to 56.7 million shares (from 44.4 million in mid-December) suggests that a wait and see approach may be prudent in this downturn. Specifically, I am waiting for a meaningful decline in short interest to a level that is below the average over the last 12 reporting periods (44.5 million shares) and at least a 10% rebound from the 52-week low, which the stock continues to drift around during recent trading.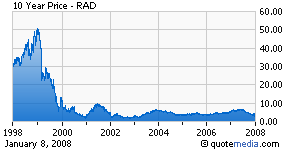 The most recent sell-off in Rite Aid was triggered by weak, industry-wide same-store sales for December, which declined by 0.5% on flat prescription drug sales and front-end sales that were down by 1.2%. The decline in December same-store sales followed increases in the previous two months of 0.4% for October and 0.9% for November. Drug retailers cited a slow start to the flu season and increased sales of lower-priced generic drugs (which ironically result in higher profit margins) for the poor results. Specifically, an unexpected recall of children's cough and cold medications and anemic demand for seasonal items put a dent in sales for December across the entire industry. Despite concerns over a recession and other economic uncertainties, Rite Aid is poised to capitalize on convenience as it expands several initiatives to improve sales and customer service, including the following: in-store health clinics/services, expanding the number of drive-thru locations, and in-store digital photography services. Also, with pharmacy sales accounting for over two-thirds of total sales and a shift to higher-margin generic drugs, the Company will benefit from demographic trends in an aging population with an increased reliance on prescription drug therapies.
Before the same-store results, Rite Aid dropped from the $4/share level to below $3/share after reporting disappointing 3QFY08 results with a wider than expected loss and a sales shortfall. The Company also lowered its guidance for profitability (or lack thereof with a wider than expected loss of $161 to $192 million now expected from $78 to $161 million), sales ($24.3 to $24.6 billion now expected from $24.5 billion to $25.1 billion), same-store sales growth (1% to 2% growth now expected from previous 1.3% to 3.3%), and EBIDTA ($950 million to $1 billion now expected from previous $1 to $1.1 billion). Rite Aid ended the quarter with 5,089 stores in operation and expects the Brooks/Eckerd acquisition of over 1,850 stores to be fully integrated by the Fall with expected cost-saving synergies of $200 million in FY08 and $300 million in FY09.
CEO Mary Sammons has defended concerns over the Company's liquidity, stating that Rite Aid has a $1.7 billion revolving credit facility with virtually no restrictions and cash/equivalents of $173 million on the balance sheet. Also, the CEO exercised options to buy 200,000 shares of common stock at $2.75 per share in mid-October 2007, bringing her total stake to 1.4 million shares. Looking ahead, the expected cost/operating synergies from the Brooks/Eckerd acquisition, favorable demographic trends, increased sales of prescription/generic drugs, and a focus on customer service/convenience makes Rite Aid a stock to buy once the stock shows signs of recovery from making new 52-week lows and short interest begins to decline below the average of the last 12 reporting periods (44.5 million shares).
For FY09, I believe Rite Aid can achieve EBIDTA of at least $1 billion, resulting in a price target of $5/share based on an enterprise value [EV] to EBIDTA ratio of 10X, which includes about $6 billion in outstanding debt and a market cap of about $4 billion at $5/share for a total EV of $10 billion. The EV/EBIDTA ratio of 10X is in-line with peers such as Walgreens (WAG) at 9.1X, CVS (NYSE:CVS)at 12.6X, and Longs Drug (LDG) at 7.1X, compared to Rite Aid's current multiple of 12.3X.
Alternatively, Rite Aid could become part of industry-wide consolidation with private equity as the most likely buyer given the leverage of the Company's high debt load and anti-trust concerns associated with an acquisition by industry giants Walgreens or CVS. Also, a point often overlooked is that Jean Coutu Group is now Rite Aid's largest shareholder with about 252 million shares or about one-third of the Company.
However, as part of the transaction for over 1,850 Brooks/Eckerd stores, Rite Aid benefited from an inflated stock price of $4.54 to $4.71 per share, resulting in a deal that included $1.45 billion in cash and $1.1 billion in stock that would not be feasible today with Jean Coutu's stake deflated to a value of just over $500 million. Now, it just remains to be seen whether Rite Aid can capitalize on the deal by effectively integrating the Brooks/Eckerd stores in the form of cost savings, increased sales, and profitability.
Disclosure: Author has a long position in RAD