Value and Growth with Adtran
With exceptional management, exceptional margins, and exceptional growth prospects, Adtran (NASDAQ:ADTN) is poised to deliver long-term value to shareholders.
Company Overview
Adtran, Inc. is a low-cost provider of network access equipment and support for communications networks. Its products enable voice, data, video and Internet communications across wireline and wireless networks. Most of Adtran's products are installed in the "last mile" of telecom networks: the segment that connects end users to a carrier's broadband network.
Below is the company's breakdown of revenue by segment and geography, respectively.
click to enlarge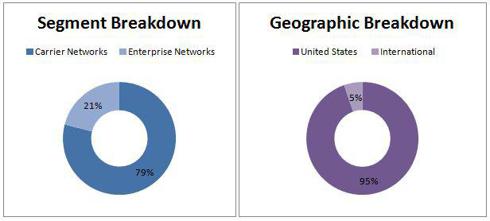 Why Invest in Adtran?
Surging Long-Term Demand
With explosive demand for data capacity from consumers and businesses alike, carriers must respond with long-term growth in IT infrastructure spending. Adtran carries the diversified portfolio of hardware products and service necessary to continue acquiring market share in this segment.
Record Growth
In 2010, Adtran set an all-time revenue record at $606 million by pursuing its high-growth Broadband Access, Optical Access and Interworking segments, which have grown 40% since the year before. Moreover, the 3 year average EPS growth for Adtran is a staggering 20.2%, 3 times the industry average.
Industry-leading Profitability
Adtran leaves its peers in the dust when it comes to margins. The company's net profit margin (TTM) of 17.1% is almost double the industry average. Its gross margin of 23.3% is more than double the industry average of 10.2%. Such high margins are very rare among companies that produce hardware, but Adtran's exceptional management team has set the new standard.
Corporate Strategy
Adtran has benefited greatly by pursuing markets largely neglected by its competitors. Meanwhile, the company pursues a rapid product development cycle that, along with cost efficient manufacturing based in China, allows it to sell quality products at a great price.
Adtran is also dedicated to growing and maintaining profitability, as its widely acclaimed management team keeps a tight rein on expenses and refuses to pursue growth in less profitable segments, a key indicator of long term success centered around the best channels of growth.
Impeccable Balance Sheet and Cash Flows
What makes Adtran's growth even more impressive is its conservative capital structure. The company is financed almost entirely with equity, with a debt to equity ratio of only 0.1. Meanwhile, the company has over $160 million in cash and cash equivalents on hand and has generated $139 million in FCF in 2011.
With only $46.5 million in debt and a fortress of cash, investors need not worry about the short term turbulence that a small company like Adtran may face. Most importantly, these solid financials give Adtran the ability to finance large amounts of R&D spending. Adtran invested in its future by spending in excess of $90 million in 2010 doing just that.
Recognized Excellence
In 2010, Adtran was recognized with 32 awards ranging from achievements in innovation to dedication to sustainability. Adtran won Alabama Large Manufacturer of the Year in 2010. Most recently Adtran's Ultra Broadband Ethernet won Best Product at the 2012 World Vendor Awards.
Risks
Adtran must, however, face a few obstacles in the future. The company's top 3 customers (AT&T, Qwest, and Verizon) account for slightly under half of sales, leaving the company vulnerable to cyclical swings in carrier spending. This, however, isn't a long term concern, as the company's fortress balance sheet keeps it prepared for any downturns that may arise in the future.
Following its acquisition of Nokia Siemens Networks' ("NSN") fixed-line Broadband Access business, Adtran may face higher than expected costs associated with integration. Again, however, the company's solid balance sheet provides a large cushion in the event that this occurs. In the long term, Adtran's acquisitions should position the company well to aggressively expand internationally.
The Verdict
Adtran is still trading below its fair value, especially when considering its long term growth prospects and stellar management team. However, a solid company like Adtran is likely to deliver long-term returns to investors.
Disclosure: I am long ADTN.