With global demand worries being exacerbated by confusing U.S. economic data and a rapidly crumbling eurozone, copper and gold have been getting sold hard. Freeport McMoRan (NYSE:FCX), a much discussed dividend stock, has taken part in the broad selling action and its yield is now 3.8%, closing in on 4%. While I have a strong belief that copper and gold prices will be much higher five years from now, the intermediate term is going to lead to further price weakness in Freeport, providing even better entry points.
The Copper Side of the Equation
Copper, whose price is driven largely by Chinese demand, has taken a beating as Chinese economic data has disappointed:
Import data indicated weak domestic demand
8.1% GDP growth, which missed expectations
A contracting manufacturing sector, indicated by the HSBC PMI data reading below 50
Horrendous regional and national industrial output data
Faltering retail sales
Add in the fact that we could be approaching a summer in which we see U.S. economic data trend lower like last year (when August net job creation was zero), and where some eurozone nations enter nearly depressionary economies. Despite Germany's above-forecast GDP figure of 0.5%, I predict a downward revision in Q2, while actual Q2 numbers will indicate a recession. With the core euro nations entering recessions or experiencing completely stagnant growth, copper has plenty of room to fall.
Click to enlarge all images.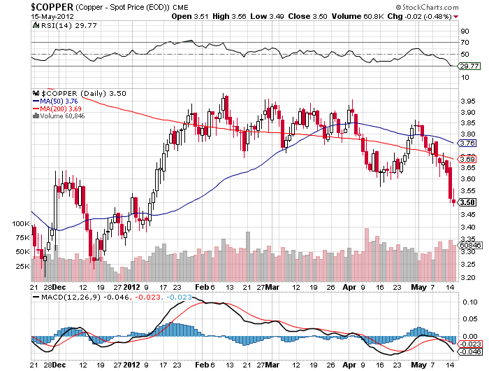 Based on what we saw last summer, I expect spot copper to test $3.25 again. Around the $3-$3.25 level should be low enough for central banks to begin easing again, at which point the metal should catch a short-term bid.
Gold Prices Also Likely to Push Freeport Stock Lower
Gold is simply failing to act as a safe haven during this year's euro crisis. Investors are flocking to the dollar and treasuries, and dumping the euro and periphery bonds. Sentiment in the gold market has been particularly weakened by the lack of easing by the Federal Reserve.
With deflationary pressures accelerating and gold currently being labeled a risk asset, prices are going to move lower in the next few months barring additional QE from central banks. Technical action also points to further downside, as gold has simply failed to find any sort of support yet. Commodities guru Jim Rogers believes gold investors should be hedged in their long positions, and I fully agree.
Freeport's chart is quite ugly as well: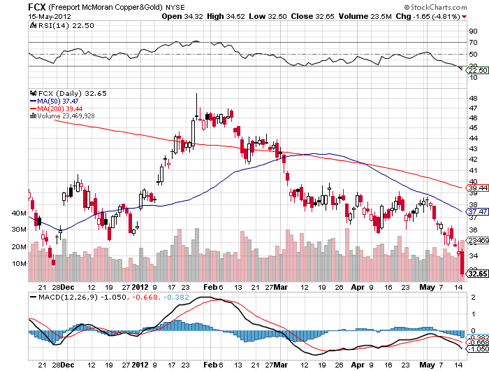 The stock is approaching its 52-week low of $28.85, and keeps moving lower on an expansion of volume.
Conclusions
Freeport McMoRan is going to move significantly lower in the intermediate term. The Chinese economy is going to soften considerably more along with the core developed economies, before the central banks of the world execute coordinated easing to reinflate everything once again. It's a simple thesis.
With Freeport moving lower, dividend investors would be wise to begin averaging in at favorable price points. The trailing yield should come close to 5% at some point in the next few months, and the company's long-term fundamentals are extremely strong for any portfolio. The stock is essentially a leveraged hedge on inflation and money printing, with the current gratification of a fat dividend yield to either reinvest in the productive business or consume today.
Disclosure: I have no positions in any stocks mentioned, and no plans to initiate any positions within the next 72 hours. I am long GLD puts.