Circuit City (NYSE:CC) is a company wrought with cancer. To one side lay death and bankruptcy and the other a prosperous and heroic return to life and profitability.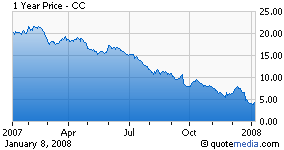 The issue shareholders are currently facing is that the man who will probably determine which way CC falls is the same man who brought them to this point: current Chairman and CEO Philip Schoonover. I quote from the most recent 10Q: "We underestimated the financial impact from the disruption of our transformation work." Mr. Schoonover is describing the negative financial impact caused by his decision to remodel stores during the holiday season. How intelligent would one need to be to understand that holiday shoppers want things clean, fresh, and decorated? They don't want construction going on while they shop – it ruins the mood and is an especially dangerous business maneuver when everyone knows Best Buy (NYSE:BBY) is always a pleasant place for holiday gift-finding. Why would one who holds such a responsibility to the shareholders of the company he operates make this type of decision?
I don't know either, but I'll give the fellow the benefit of the doubt and say it was a one-time (albeit huge) mistake.
On to the important part. Here is why I'm planning on picking up some Call Options on Circuit City within the next week. As of Circuit City's most recent quarterly filing, some positive statistics are as follows:
· 170 million common shares outstanding with a float of 165 million
· $483 million in cash & cash equivalents
o That's $2.84 cash per common share
· $4.30 common stock price
o Circuit City has cash equivalent to 66% of its current common stock price
· Price/Book = 0.48
· Total Debt/Common Equity = 5.62 %
· Price/Sales = 0.06
· Total Long Term Debt = $60.8 million
The Bank of America (NYSE:BAC) and Circuit City are expected to close on a $1.3 billion asset-backed credit facility deal at the end of January. In addition, management has begun reaping cost savings awards on their implementation of structural changes. For the nine months ending November, 2007 Circuit City saw an SG&A expense savings of ~$181 million. This number is expected to rise to ~$200 million per annum in FY 2009.
One thing to keep in mind is that bankruptcy is not out of the question for Circuit City. However due to the aforementioned statistics and more importantly the level of cash it currently has, I expect Circuit City will be acquired or brought private before bankruptcy takes hold. An argument could be made that possible suitors will wait until they go bankrupt and try to pick up pieces on the cheap. The issues with that argument is that it assumes there's only one suitor waiting and willing. When (and if) this credit facility goes through, expect an entity to rush in and capitalize on the value Circuit City currently presents.
Disclosure: David Schrader expects to purchase CC Call options sometime in January, 2008.