A couple of firms are out somewhat cautious on Pharmaceutical Product Development (NASDAQ:PPDI) after the company released its Q4 results last night: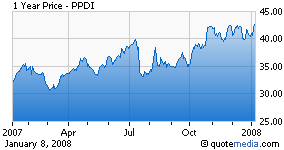 Baird notes that at face value, PPDI delivered an above-consensus forecast and shares bid to new highs after hours; however, PPDI reduced 4Q07 Development targets and delivered 2008 Development EPS targets below their (below-consensus) model. Core operating reductions were offset by lower Discovery dilution and inclusion of an unexpected, and potentially aggressive, milestone. Absent Compound Partnering, they would be more cautious, and are conflicted on whether a first-cycle SYR-322 milestone is appropriate in guidance.
Maintains Outperform and $48 target.
Jefferies says that while PPD's CY08 EPS guidance exceeds both consensus and their estimates, extracting the milestones included within guidance brings PPD's results in-line with their estimates. Although the firm is encouraged by the increased earnings power from compound partnering milestones, PPD's guidance is now closely tied to a binary event.
Maintains Hold and $43 target.
Notablecalls: Based on these comments, I don't think PPDI deserves to trade 2-3 points higher this AM (as of 8:32 AM ET, it's higher by $2.61). It's up there because of the UBS upgrade and these guys are just late.
By the way, how can Baird stay at Outperform with a $48 target?