What if I told you that you could buy shares in a REIT that had a nice dividend yield, lower volatility than a mortgage REIT and forty-three year track record of performance? Sounds good? No, I'm not talking about the triple net or health care REITs.
What if I then told you that this sector is tied directly to housing; however, this is not a mortgage REIT. Before I answer that, let me show you a few charts.
First off, let's take a look at Annaly Capital Management's (NYSE:NLY) dividend performance from 2002-2011: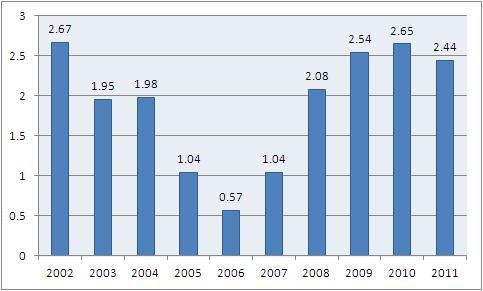 Now let's take a look at Capstead Mortgage Corporation's (NYSE:CMO) dividend performance from the same period (2002-2011):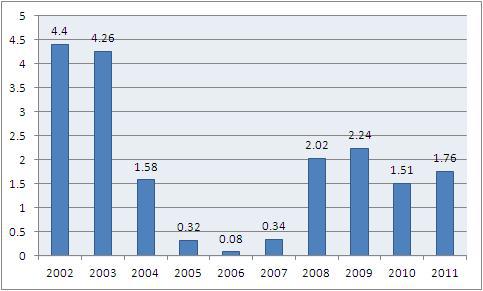 Finally, take a look at Anworth Mortgage Asset Corp. (NYSE:ANH) for the same period (2002-2011):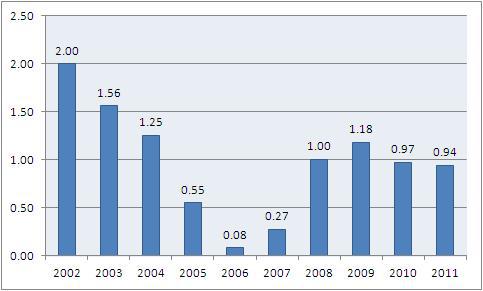 These three high-yielding REITs look like roller coaster rides at Six Flags. In addition, the wheels are in motion for yet another nose dive since interest rates are at virtually zero and there is a force of nature that, at some point, will propel the dividend downward. I'm not going to forecast the time of the event. I simply point out that there is a cycle and we are at the point where we are entering a tunnel of uncertainty and there appears to be a yellow sign called "risk" that is flashing ahead.
So, how do you find a suitable fixed-income alternative that promises a strong dividend yield, capital appreciation, and most importantly, a business model that is sustainable in an increasing interest rate environment? In other words, how can you invest in a REIT that is going up (in dividend yield) when others are "potentially" going to come down?
UMH Properties - A REIT Worth Considering
UMH Properties, Inc. (NYSEMKT:UMH) commenced operations in 1968 and has been operating as a public company since 1985. The New Jersey based REIT has a portfolio of 41 manufactured home communities containing approximately 9,000 sites located in Indiana, New Jersey, New York, Ohio, Pennsylvania, and Tennessee.
I wrote a detailed article on the Residential Housing REIT a few weeks ago so I won't bore you with the details (If interested you can link here). However, take a look at the dividend chart comparing the history of UMH: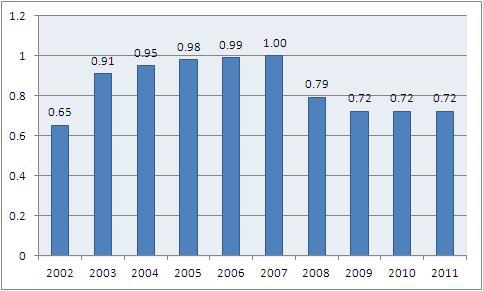 Up until the "great recession" (2008), UMH had increased its dividend for 17 years and the consistency of the revenue was directly correlated to market knowledge and skillful risk management practices. I had an opportunity to speak with the company's CEO and President, Sam Landy, and here is a summary of the conversation:
Thomas: Modular housing is a specialty sector; however, the affordable housing platform appears to be providing some very sustainable dividends today. What is the driving force of the sector?
Landy: Manufactured Housing provided over 100,000 new homes, and in some years as many as 300,000 new homes to home buyers from the 1960s until the housing recession in 2007. Since then, shipments have dropped to under 50,000.
The first thing to know about the business is that working people accept and want our homes. Major negative changes in employment do affect our new home sales, and when prolonged enough, may affect our ability to raise rents enough to offset increased costs. But with the exception of the major recession we saw in 2001 and 2008 this business generally holds up very well.
However, the boom in value of conventional homes from 2001 to 2007 provided a never before seen problem for the manufactured home sector. Owners of manufactured homes in land lease communities saw their friends and family buy homes with little to no money down, with poor or bad credit, and yet those people made money because the house appreciated. Shipments of manufactured homes during the boom years 2003 to 2007 were significantly negatively impacted because conventional houses or townhouses seemed to be money machines.
Because things are becoming more normal, manufactured home communities are seeing occupancy stabilize. The demand for rental homes in communities is extremely strong.
Anyone in this business during the 70's, 80's and 90's knows this is meant to be a good business. The last decade was an apparition that should not reappear.
Thomas: UMH has recently announced an acquisition of a 90-site community in Muncie, Indiana for a purchase price of $2.1 million. How is that investment going to enhance returns?
Landy: We build and expand communities. Both are difficult to impossible tasks because of the burdens of the approval process. The Muncie, Indiana community has 250 fully engineered, fully approved lots. There are currently approximately 70 lots occupied. If we can net $10,000 on 180 home sales, we can pay $1,800,000 of the $2.1 million sales price based on our sales profits. The housing market will determine whether we make more or less. We think it's a great location and we think we will make more. But, only time will tell.
Ultimately, we expect the community to cost $7,500,000 or $30,000 per site to be completely built and to gross $1,000,000 in rent ($4,000 x 250 or $333 per month lot rent) and net $500,000 or 6 percent- plus when complete. Additionally, we can earn brokerage commissions on the resale of homes, sales profits on the sale of homes, interest by financing homes, appreciation if the area improves and we can charge higher rents.
My 6 percent return figure was based on the $30,000 per site net values. The actual cost will depend on the sales profit. If it costs $30,000 to build the lot and we earn $15,000 on the sale, our return on the cost of the community is much greater. And, if we finance the community our return on equity is also much greater.
Thomas: UMH also announced that the REIT has entered into an agreement to acquire eleven communities, ten in Pennsylvania and one in New York, for a purchase price of $28.25 million. How is that going to benefit shareholders?
Landy: The parks we are buying at 7.5 - 8.0 percent cap rates will be immediately profitable to UMH. We're hopeful of getting the mortgage for 50 to 70 percent of the purchase price for rates as low as four and three-quarters percent. So, we'll make money on the rate and we'll make very good money on the equity into the company. Further, UMH believes it has an advantage over the previous owners in that we can put in inventory, we can finance sales, so that if Pennsylvania goes the way we think it will go due to the expected growth through the Marcellus Shale area, the parks should generate profitable sales, better occupancy, and increased rents. So, we're very hopeful this will be immediately lucrative and be lucrative over the long term as well.
Again our plan is add sales income, brokerage income, and create value by making improvements that result in higher rent and higher occupancy.
Thomas: UMH was formed in 1968 and the company became a REIT in 1985. What is different today and what did you learn from the "great recession"?
Landy: UMH has been in business since 1969. We are very bullish on the affordable housing sector. No one anticipated seven bad years in housing. We went from 1.5 million to 2 million homes a year down to 500,000. The manufactured housing sector traditionally has been 15 percent of the market. It stayed 15 percent of the market, but 15 percent of 500,000 was 75,000 or less, so the manufactured housing market was decimated. We never anticipated that. Further, we thought that the manufactured housing communities were recession resistant, and this has proved to be the case, but we went from 90 percent occupancy to 77 percent occupancy.
We stayed profitable throughout the period, but we didn't get the profits that we should've gotten based on the huge capital investment. So, we did not do as well in the recession as we thought we would, but on the other hand we survived, we are profitable, and the government and we predict that when the housing market turns, we'll have three, five, and even ten years of a strong housing market and so UMH should do very well in the turn around period. The thing we learned is recessions can last longer and be stronger than anyone can imagine. The thing we knew that kept us strong is stay liquid, buy when others are selling, buy less when others are buying.
Thomas: UMH is somewhat different from its peers in that your company invests in other REITs. What is the strategy of owning a REIT that invests in REITs?
Landy: We're very proud of the strategy of investing in other REITS. We did it primarily for liquidity so it got us through the terrible years of 2008 and 2009. We had liquid REIT securities and so we didn't get into a financial crisis. One of the larger other companies got into financial crisis and they had to sell the company at the depths of the market, at the lowest price imaginable. We use the REIT securities for liquidity; we also use them to enhance our income because we borrow 2 percent today, we invested 7 percent.
We also use them to invest in real estate when Wall Street real estates sells for less than Main Street real estate. This strategy has proved very successful. Today we have substantial gains realized in 2012, and I think we have about 6 million in unrealized gains - this on a portfolio for about $44 million. So, it was an unusual thing we did, other REITs don't do it, and it gave us diversification, liquidity, enhanced income and capital gains, and has positioned UMH that we can now reposition that money into manufactured home communities.
Thomas: UMH has a strong record of dividend distributions. Up until the housing crash in 2008, UMH was on track to becoming a "dividend champion" and the streak of 17 years of consecutive and increasing dividends was broken with a cut in 2008. The annual dividends paid per share have been $0.72 per share for 2009, 2010, and 2011. The current dividend yield is 7.1 percent (as of May 10, 2012). That appears to be an attractive dividend. What are your thoughts?
Landy: UMH's earnings capabilities are much higher than our current earnings. We have over 2,200 vacant sites that if rented would generate 8 million dollars. We lose two to three million on sales. If we turn around, have profitable sales and if we fill sites, UMH's earnings will be substantially more that $0.72 a share. Currently, our earnings are not satisfactory - we generate satisfactory earnings counting the capital gains from our securities portfolio.
The housing market appears to be turning around. Sales are going back towards our normal sales levels, so we anticipate we will have earnings greater than $0.72 and we'll be able to increase our dividends. But again, that is contingent and that is a projection based on a return of the housing market from the current 500,000 units a year to 1 million, 1.2 million. And we believe because of demographics that's a possibility, but the market has to have patience for the housing market to turn around.
Thomas: Sam, thank you for discussing your successful platform and I look forward to catching up with you again.

There are three modular housing REITs in the FTSE NAREIT sub-sector. The combined market capitalization of the sub-sector is $4.186 billion and the average dividend yield is 3.55 percent (as of April 31, 2012). The other two REITs are Equity Lifestyle Properties (NYSE:ELS) and Sun Communities (NYSE:SUI).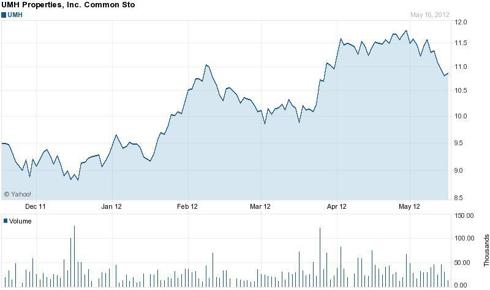 Disclosure: I have no positions in any stocks mentioned, and no plans to initiate any positions within the next 72 hours.