It is hard to find any signs of optimism on Wall Street these days. Nasdaq has had 8 consecutive down days and is down 8% to start the year, and most investors are ready to predict a bad year for the markets. Some of this sell off could be attributed to redemptions at hedge funds and mutual funds. But to me, this sell off feels a lot like flight from a US recession which has turned into a flight to anything foreign. It is true that the growth overseas (and down in South America) is much better than here in US, but it comes with a much higher set of risks.
One source of domestic safe haven has always been health care. It is a well known recession proof play that has benefited from economic cycles. The Nasdaq Biotech Index is flat for the year, outpacing the Nasdaq, and may signal a good year for Pharmaceutical and Biotech names.
I had posed a Poll question on this blog asking the readers opinion on this sector in 2008. Interestingly, the overwhelming majority said that 2008 would be a great year for pharma and biotech stocks. 92% of the 14 responders predict a greater than 10% return for the sector in 2008 ( I know the sample size is tiny!). One obvious risk to this theory becomes the 2008 elections and whether a president from the democratic party would push for lower drug prices which would hurt the bottom line for the industry.
The much publicized JP Morgan health care conference has been a catalyst for a lot of stock movement in the past week. Merck (NYSE:MRK) is up 3% , Eli Lilly (NYSE:LLY) is up 5% and GlaxoSmithKline (NYSE:GSK) is up 6% for the year. These three stocks have momentum based on good product stories. Merck is continuing with its successful Gardasil for prevention of cervical cancer, Lilly just got approval for once a day Cialis for erectile dysfunction and GSK is set to report some better news for its diabetes treatment Avandia.
For Biotech names, my favorite name Genzyme (GENZ) had a solid 07 and just signed a deal to co-develop a cancer treatment with ISIS Pharmaceuticals (ISIS). Biogen-Idec (NASDAQ:BIIB) increased its earning projections. Celgene (NASDAQ:CELG) beat estimates and reiterated earnings in 2008.
Even Amgen (NASDAQ:AMGN) and Genentech (Private:DNA) are participating in a strong first week of 2008 while coming off of their multi-year lows.
This is the year that we may see the first Phase III clinical trial for a Hepatitis C protease inhibitor, Vertex's (NASDAQ:VRTX) Telepravir. Others, such as Pharmasset (VRUS) and InterMune (NASDAQ:ITMN) also have HCV products in the clinic which will make for an interesting race in this multi-billion dollar market.
A safe way to invest in the Biotech sector would be to buy Merrill Lynch's Biotech Holders ETF (NYSEARCA:BBH) which is trading at $160, the lowest level since 2005.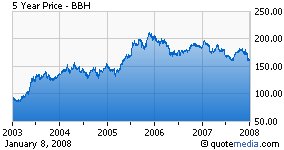 Bottom line: Positive headline news for the pharmaceutical industry will make it a great investment opportunity in 2008. Look for more deals including mergers and acquisitions and licensing to mark a good year for health care stocks in 2008.

Disclosure: The author has long option and stock positions in some of the above mentioned companies.