The situation in Greece is deteriorating so rapidly, it is hard to keep up with the situation. Between the country's inability to form a government, its continuing inability to collect taxes (implement fiscal austerity) and a potential government that apparently does not feel it has to abide by agreements signed by the prior administration, the Greek banks are feeling the heat.
The Wall Street Journal reported earlier that:
Greek depositors withdrew €700 million ($898 million) from the country's banks on Monday, fueling fears of a bank run amid the growing political disarray.

Greek President Karolos Papoulias told the country's political leaders that bank withdrawals plus buy orders received by Greek banks for German bunds totaled some €800 million on Monday, a transcript of his comments said. A central bank official confirmed the figures.

"The strength of banks is very weak right now," Mr. Papoulias said, citing a conversation he had with Greek central-bank Gov. George Provopoulos.

Monday's deposit withdrawal far outpaced Greek banks' steady decline in deposits since the start of the country's debt crisis in 2009, as depositors withdraw cash and transfer funds overseas. In the past two years, deposit outflows have generally averaged between €2 billion and €3 billion a month, though in January they topped €5 billion.

With domestic funds drying up-and access to interbank lending markets shut down-Greek banks have become heavily dependent on the European Central Bank for funding needs. Greek banks borrowed €73 billion through the ECB's lending operations in January, say Bank of Greece figures, and an additional €54 billion via the ECB's emergency-lending facility, which allows Greece's central bank to lend money against a wider pool of collateral.
Then, later in the day Reuters reported:
The European Central Bank has stopped providing liquidity to some Greek banks as they have not been successfully recapitalized, the ECB said on Wednesday, confirming news earlier reported exclusively by Reuters.

"As recapitalization wasn't in place, the ECB stopped monetary policy operations," a euro zone central bank source told Reuters, declining to be identified. "They are now in the ELA of the Greek central bank."

The ECB only conducts its refinancing operations with solvent banks. Banks which fail to meet strict ECB rules but are deemed solvent by the national central bank (NYSE:NCB) concerned can nonetheless go to their NCB for emergency liquidity assistance (NYSE:ELA).

The sources did not name the banks concerned.

An ECB official later added: "Pending the recapitalization of Greek banks that are severely undercapitalized as a result of the recent PSI (debt restructuring) operation, some of the Greek banks have been moved to Emergency Liquidity Assistance."

"Once the recapitalization process is finalized, and we expect this to be finalized soon, the banks will regain access to standard Eurosystem refinancing operations," the official added. "The ECB/Eurosystem (of euro zone central banks) continues to support Greek banks."
The environment and condition of the Greek banks just went from bad to worse to horrible. In the middle of this quagmire is Greece's largest publicly traded bank: the National Bank of Greece (NBG).
National Bank of Greece, the oldest Greek commercial bank, heads the largest and strongest financial group in the country. As of 12/31/11:
The Bank has 539 branches and 1,400 ΑΤΜs in Greece and 1,137 branches overseas. The Group boasts by far the largest network for the distribution of financial products and services in Greece.
Overseas the NBG Group is active in 12 countries and includes 8 banks and 60 other companies.
The bank has gained market share in all deposit categories (savings deposits 34.1%, time deposits 15.6% and sight deposits 22%).
The Total Capital Adequacy Ratio stands at 8.3% following the state guarantee of a capital injection of €6.9 billion from the Financial Stability Fund in the context of the recapitalisation programme for Greek banks.
During 2011:
NBG had PSI+ related losses of €9.4bn, after recognising a small fraction of the associated tax benefit, on nominal value of
eligible securities of €14.8bn.
Group loss of €289mn, excluding PSI related losses and
other impairments, despite €2.0bn of provisions (+66%), of
which €1.9bn in Greece.
While the bank struggled mightily to keep the ship upright, there is only so much water you can take on.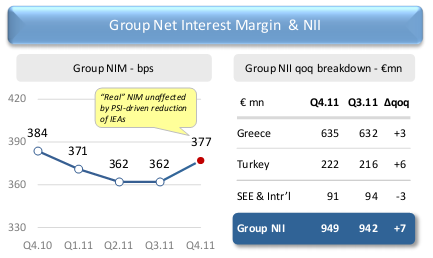 (Source: company YE presentation)
The group was making progress trying to control costs and increase the overall profitability of the group. They were/are trying to provision as much as possible for the flood of bad loans (which have affected every sector in Greece):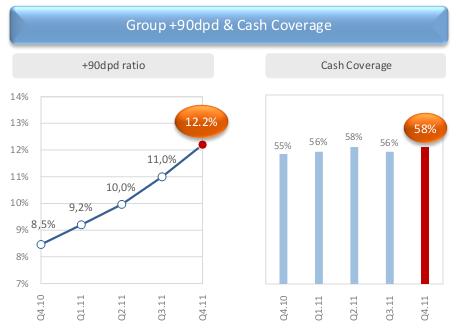 (Source: Company YE presentation)
But when one looks at their balance sheet, without the backstop recapitalization, the bank is essentially insolvent.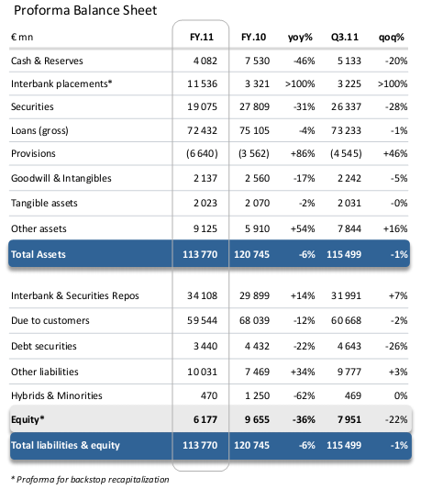 Even with the backstop capital, the banks tangible common equity is approximately 3.5 billion euros. The first quarter, I am sure, ate up more of it, so chances are TCE will be closer to (or below) 3 billion euros. Way too skinny for a fundamental investment.
Backstop information
(20-F Filing) The Bank participated in the PSI and as a result, the Group recognized impairment on its Greek government bond portfolio and loans of EUR 10.1 billion. Furthermore, as a result of economic conditions in Greece, the Bank also impaired its non-PSI exposure to the Hellenic Republic, in an amount of EUR 0.7 billion. These impairments had an adverse effect on the Bank's capital position, resulting in losses of EUR 14.5 billion. As a result, the Group's capital adequacy ratio decreased below the minimum threshold of 8% (negative 2.6%) and requested access to the Hellenic Financial Stability Fund ("HFSF"), initially receiving a commitment from the HFSF on April 19, 2012 to participate in the Group's share capital increase for EUR 6.9 billion, which raised its total capital ratio as at December 31, 2011 to 8.3% on a pro-forma basis. The Bank will need to raise its Core Tier I capital ratio (according to the European Banking Authority (the "EBA") definition) to at least 9% from September 30, 2012, and to 10% from June 30, 2013 according to the new minimum targets set by the Bank of Greece.
Naturally, the banks shares have been absolutely decimated - down 26% in the last five days and down 77% over the last year.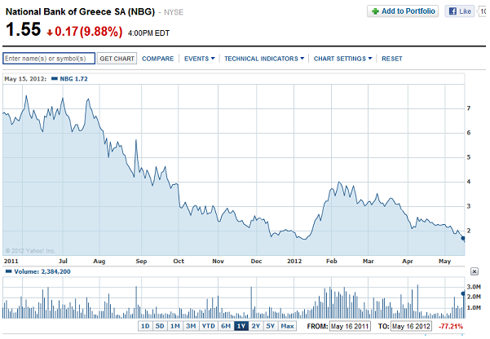 (Source: Yahoo!)
Likewise, their Series A preferred (NBG-A) has been washed out: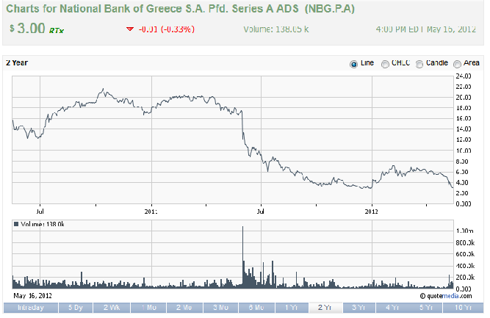 (Source: QuoteMedia)
Bottom Line: Fundamentally, an investment in this bank makes no sense. While it has a dominant share of business across Greece, the bank does not have enough capital to survive without significant additional capital infusions. Given the reluctance of the ECB to continue to support the Greek banks (due in no small part to the possibility Greece might renege on its agreements), survival is not guaranteed (as a public entity). As a result, shares of NBG (both common and preferred) should be viewed as a high risk out of the money option on Greece - they are no longer an investment.
You will note I am long NBG common. This position was bought as an option on Greece 100% higher with no stop. This was done with my speculative (highly speculative) funds and accounts (at cost) for a very small percentage of capital - very small. Thought I would mention it before I was asked about it.
Disclosure: I am long NBG.
Additional disclosure: This article is for informational purposes only, it is not a recommendation to buy or sell any security and is strictly the opinion of Rubicon Associates LLC. Every investor is strongly encouraged to do their own research prior to investing.