Hess Corporation (NYSE:HES) shares recently hit a new 52-week low, thanks to plunging oil and stock prices. The markets have dropped almost every day for about 10 days in a row, taking oil stocks like Hess down with it. Unless the world is headed for a depression, the stock is now very undervalued. More likely, investors are depressed after seeing highly negative headlines, and when investors are overly pessimistic, it's often a great time to buy beaten-down stocks. Here are 3 reasons to consider buying Hess shares on this pullback: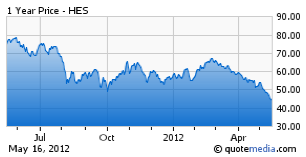 1. Hess is involved in refining, storage terminal operations, energy marketing and retail. It is also involved in oil and gas exploration and production around the world in locations like Ghana, Libya, Columbia, China, Brunei, France, Australia and other countries. This range of geographical and operational diversity reduces risks for the company and its shareholders.
2. Insiders have been taking advantage of the cheap stock price. On May 2, 2012, a director named John Mullins purchased 10,000 shares at $53.63 per share. Also, John Hess, an officer, purchased 48,000 shares on April 29, 2012. Insider buying is often a sign that a stock is deeply undervalued. Most insiders already have options and shares in a company, so additional purchases can be a meaningful buy signal for investors to follow.
3. The stock is undervalued based on many metrics. Hess shares now trade below book value, which is $56.40 per share. It also trades for just about 7 times earnings and for nearly half the 52-week high of $80.05 per share. Investors should consider averaging into this stock in case of further weakness. However, with the stock at very oversold levels, a sharp rebound is increasingly likely.
Key Data Points For Hess From Yahoo Finance:
Current Share Price: $44.24
52-Week Range: $44.10 to $80.05
Dividend: 40 cents per share which yields .8%
2012 Earnings Estimate: $6.50 per share
2013 Earnings Estimate: $7.75 per share
P/E Ratio: about 7 times earnings
Data is sourced from Yahoo Finance.
Disclosure: I have no positions in any stocks mentioned, and no plans to initiate any positions within the next 72 hours.