Last month we wrote an article titled "Buy in May and Sell Away." The premise of the article was that investors should do the opposite of sell in May and go away which is to buy SPY in May and sell SPY in September/October. Based on our proprietary indicators (which are open to our subscribers) we suggested that a temporary bottom in SPY will occur in May and that would be the opportunity to re-enter the US market via SPY before it moves upward during the summer months.
Why did we make this prediction? Well, our recent behavioral indicators for the US market have coincided with the US behavioral indicators back in 1986/1987. This similar comparison began back in August of 2011.
Similar to 1986/1987 there was a large run up in the S&P 500 during the first quarter before pulling back some in May 1987. The figure below shows the comparison between the two periods. We indexed both prices to start at its low in 1986 and 2011 which were both in September of 1986 and 2011. It can be seen that the overlay matches very well between the two periods in regard to the run up in price and the most recent pullback.
The question then becomes, is there any evidence to suggest that SPY will continue to correspond with the same action below? If it does it means SPY will increase another 10-20% during the summer. Or the sell in May and go away could be correct, meaning more downside for the US stock market.
Figure 1: 1986/1987 - 2011/2012 S&P 500 Price Comparison
click to enlarge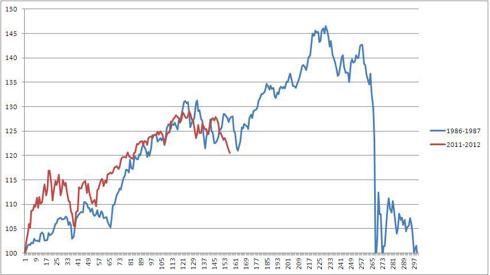 Now, using overlay of prices from previous periods is dangerous. We created an algorithm to look for similar price patterns throughout time lasting longer than six months and there were many examples. However, the overlay never lasts much beyond six months. This is where our indicators come in handy. The only period where our current US indicators match very close to those of previous periods is the 1986/1987 period. Our indicators help pinpoint cycles that repeat themselves and we believe we are on course for a 1987 type year.
What does this mean? It means one should think about buying more of the US stock market via ETFs such as SPY. Hold throughout the summer and then sell before the bigger correction takes place. As of now we do not have clarity on those exact dates of when to sell. However, we provide a weekly update on how our indicators have changed in our newsletter.
Disclosure: I have no positions in any stocks mentioned, but may initiate a long position in SPY over the next 72 hours.