Now that the S&P has shaved off nearly 100 points from the peak made on May 1st, we've been presented with another opportunity for fresh bulls to do a bit of value-focused dip buying. The financial sector in particular has been slammed with a fresh wave of omens from Europe, topped off with the $2 billion mistake at JP Morgan's (NYSE:JPM) trading desks to scare off weaker hands in the financials.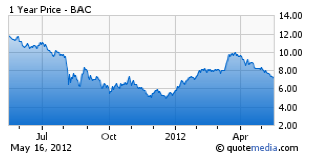 The debt maelstrom in Europe is returning, exacerbated by poor macroeconomic data coming out of the EU. There has been a new wave of skepticism over the validity of credit default swaps as proper hedges against holdings of sovereign debt too, which has hit the financials particularly hard. Treasury yields are pricing in strong deflation, with the 10-year T-bill yielding 1.76% (below the fed's 2% inflation target, of course)
Very recent news is adding to the hype. The ECB is starting to tighten the noose around the PIIGS -- and Greece is first. Indeed, the ECB has just excluded 4 banks from its liquidity-providing operations. Basically speaking, they are going to stop buying those ultra-risky loans that those Greek banks are dying to get rid of. So then, either Greece will meet international bailout requirements or they will have to access emergency liquidity funds from the incredibly stressed central bank of Greece. Yikes.
The meltdown scenario in Europe is clearly causing a fresh surge of interest in safe-haven assets, and high-beta stocks are being tossed out the window as a result. What do we make of all this? What do we make of the ~20% drop in Bank of America (NYSE:BAC) shares in the last month? How much of the PIIGS-induced apocalypse does this all price in?
Bank of America's PIIGS exposure (both sovereign and nonsovereign) was explained in their 2012 annual report as follows:
Our total sovereign and nonsovereign exposure to Greece, Italy, Ireland, Portugal and Spain, was $15.3 billion at December 31, 2011 compared to $16.6 billion at December 31, 2010.

Our total net sovereign and non-sovereign exposure to these countries was $10.5 billion at December 31, 2011 compared to $12.4 billion at December 31, 2010, after taking into account net credit default protection.

At December 31, 2011 and 2010, the fair value of net credit default protection purchased was $4.9 billion and $4.2 billion. Losses could still result because our credit protection contracts only pay out under certain scenarios.
They list both total and net exposure, which should be comforting as this removes one layer of uncertainty concerning the hedging of European debt by our friends at the big banks. Okay, so they have about $5 billion in credit default swaps that may not trigger in a nightmarish scenario. Complete default in every risky Eurozone nation would result in a $15.3 billion hole in the balance sheet.
Looking further into the annual report, BAC publishes its exposure to each individual country too. Total exposure to the entirety of Greece is only $457 million, which is not that big of a blow in a scenario where an EU nation outright defaults on all its debt (and this is assuming that there is not an ounce of intervention).
This is laughably small relative to the bank's total asset pool worth over $2.2 trillion so I think shareholders need not worry about direct exposure to this mess
When we start talking about the macroeconomic effects, and the big and unpredictable shocks in market confidence that may occur in coming years, things get tricky. This is why I applaud the "New BAC" project which the bank is now undertaking.
Much of the excess fat is being cut off (like unnecessary jobs in senior management, and even salaries in the financial services units), and we will ultimately end up with a much safer, efficient, and functional company that will eventually pay a reasonable dividend. Not a bad stock to own, even in a recession. I outlined much of my argument for BAC's value-stock status in this article, which still holds true.
Essentially, I think that the standard bullish argument for BAC still rings true -- it is one of the better long-term value plays on the market today. Crunch the numbers, and the recent ~20% drop in BAC shares looks more ridiculous by the calculation. What I see is a good opportunity to get on the boat if you missed it in the 2011 crash.
On technical levels, BAC looks like a very buyable stock under $8/share, and a screaming buy if it manages to approach $5/share again. Omitting any black swan events, I think we are close to the bottom.
JP Morgan, another very troubled bank at the moment, is another idea which may suit your fancy if you can stomach headlines about probes by the FBI and SEC. With another asset pool worth well over $2 trillion, the $2-3 billion loss induced by Bruno Iksil is a mere paper cut.
Disclosure: I have no positions in any stocks mentioned, but may initiate a long position in BAC over the next 72 hours.