I spent a couple decades along the Texas Gulf Coast and learned early that storm warnings should never be taken lightly. Sometimes the red flags went up early and nothing bad happened. Other times the flags went up at the last minute and only hinted at the unpleasantness to come. Over the last few days the red flags for stockholders of A123 Systems (AONE) have been flying high in a stiff breeze.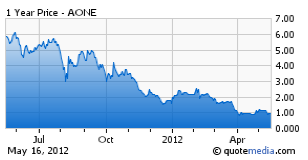 There have been many stories in the mainstream media about A123's recent problems with an improperly calibrated welding machine that wreaked havoc with battery packs shipped from its Livonia facility. The warranty repair program and inventory write-downs associated with the calibration problem have already been thoroughly dissected, as has the $125 million first quarter loss that A123 announced on Monday. I see no reason to rehash that old news.
The thing that hasn't been discussed in any detail is a $50 million debt financing that will supposedly help A123 through a rough patch. I think the terms of that financing are far more troubling than the warranty, inventory write-down and operating loss issues.
Based on a review of A123's recent Form 8-K, I would classify the new debt as a toxic convertible. The notes will mature in July 2013, but they'll be payable in 26 semi-monthly installments beginning on July 1st of this year; six weeks from now. At each payment date A123 will have to choose between writing a check for the repayment or issuing a large block of new common shares that will be valued at the LESSER of $1.18 per share, or 82% of the LESSER of the volume weighted average price for the five days preceding the payment date or the volume weighted average price on the day before the payment date.
Over the years I've had my fair share of experience with companies that hit a tough patch and did what they needed to do to survive. Their goal was always the same - conserve cash at every opportunity. In light of its precarious financial condition, I believe A123 will almost certainly choose to make payments with stock instead of cash and that its lenders will promptly resell any shares they receive in lieu of cash payments in the public market.
At A123's current stock price of roughly $1 per share, which implies a debt conversion price of $0.82 per share, it will take about 63 million new shares to repay principal and interest on the debt.
With payments due every two weeks, sales of the last tranche of payment shares will almost certainly depress the market price during the measurement period for the next tranche of payment shares. Over a period of a year, the cumulative impact could be quite severe unless A123 can generate enough good news to overcome the selling pressure.
I understand the cash is necessary, but fear that this note structure will be the stock market equivalent of the death of a thousand cuts.
Disclosure: I have no positions in any stocks mentioned, and no plans to initiate any positions within the next 72 hours.