SuperValu (NYSE:SVU), a grocer, pharmacy, and grocer logistics company with 2,478 stores announces a 25% increase in year over year earnings. What happens?
The stock drops almost 20% in two days. Why? The CEO did something really stupid and short-sighted: He was honest about the state of inflation, food prices, and the U.S. consumer.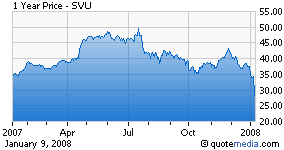 While SVU drops from $34 to $27, Kroger (NYSE:KR), a competitor in the exact same sector, tacks a $1 on to its share price. While the CEO of SuperValu speaks honestly, a competitor facing the same expensive wheat, corn, meat, dairy, ect. remains stable in the face of a large market sell-off.
This rapid sell-off has over shot dramatically. No matter what happens with inflation, people have to eat. At the current price, SVU represents a dreary sentiment for growth in earnings. The current price assumes the company will grow earnings 0% for the next five years followed by a future growth rate of 1% (10% discount assumed, DFCF).
Apparently, no one bothered to look at the financials. Debt is abnormally large at the moment because SVU is paying for its acquisition of Albertson's, a high-end grocer. As debt is paid down, the Company can convert more of its cash into shareholder earnings.
Sales could remain level for years as debt is serviced and EPS will grow more than 0-1%. The current price is too pessimistic. Assume a modest and organic increase in sales over the long term and it's not hard to imagine SuperValu growing earnings at a more impressive rate.
Assume SVU grows earnings at 0.5% for the next three years, then 2.5% thereafter, you have a $35 stock on your hands. For your trouble, SVU currently has a 2.3% dividend.