On April 30, 2012 this Seeking Alpha article highlighted 5 of the very best small cap oil plays available to investors. The companies mentioned were Kodiak (NYSE:KOG), Carrizo (NASDAQ:CRZO), Northern (NYSEMKT:NOG), Midstates Petroleum (NYSE:MPO) and Bonanza Creek (NYSE:BCEI).
In the past two weeks global markets and WTI in particular have been hit hard. Consequently, the prices of these stocks are now well off their YTD highs; KOG was $11 and is now $8.50, CRZO hit $31.50 and is $27, NOG touched $28 and is $18, MPO was $17 and is $14.70 and BCEI has dropped back from $22.70 to $19.40. This is typical of what's happening with small caps recently -- they have reacted much more aggressively to the negative news flow and a lot of good value can be found.
A number of respected commentators are wisely advising to buy during this correction period because the U.S. economy continues to grow, albeit at sub-par levels. Traditionally, investors do very well when they buy stocks when the overall indices are oversold -- one of the most followed indicators of this being a score of 30 on the relative strength index (RSI). Currently the DJ index has an RSI of 32. This will drop below the 30 barrier if the DJ loses approximately another 150 points. We are very close to good buying territory. I'd certainly be a buyer on any heavy volume down day.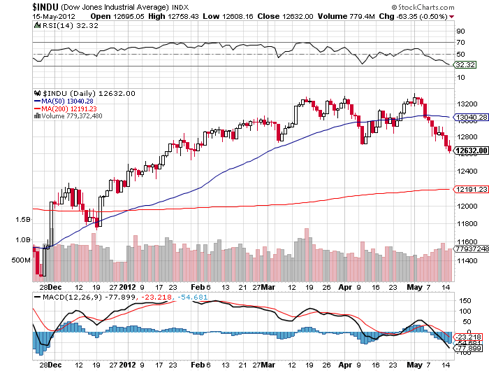 In July the Q2 earnings season commences. Ahead of that, the markets will typically move higher on the understanding that the April/May correction was overdone and that individual stocks' prices were hit too hard. This 2012 trend may replicate what happened to NOG stock in 2011, where it went from a low of $18 in May to a high of $25 in July. NOG is already looking eerily similar to 2011.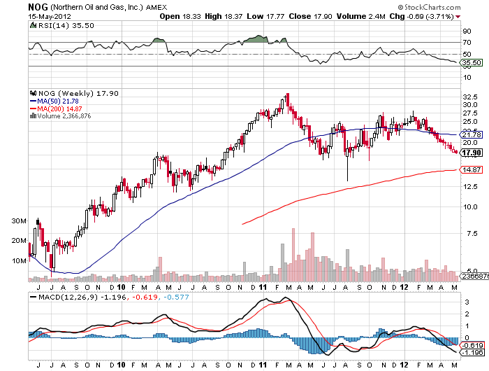 Sometime over the next couple of weeks, possibly late this week, the market will likely bottom and begin to move up. In the meantime we have a reasonable window that provides investors with an excellent opportunity to buy great stocks at great prices.
Bonanza
Of the companies from the above list, Bonanza Creek was singled out as being the overall best of breed. On May 10 BCEI released Q1 results and followed with a very positive conference call. First, a synopsis of the results:
Production; 646 MBoe, up 96% on the prior year 330 MBoe
Sales; $49.5 million, up 123% on the prior year $22.2 million
Adjusted Net Income; $11.0 million, up 193% on the prior year $3.8 million
Crude oil and liquids represented approximately 93% of total revenues. In commodity terms this was 65% oil, 11% NGLs and 24% nat gas. Q1 production of 646 MBoe represented 7,100 Boepd and the company reiterated full year 2012 guidance of between 8,700 Boepd and 10,000 Boepd.
From the subsequent conference call, a number of important points emerged:
Drilling inventory of Wattenberg wells increased from 215 to 290 (12 years). Company is looking at down-spacing from 80 acres to 40 acres, confident it can drill in Codell formation and also positively examining Niobrara C bench. Significant further increase in drilling inventory to be expected.
2012 drilling program running 1.5 months ahead of plan, should be completed by July, opening the door to further drilling this year.
Only 3 of the 8 Niobrara horizontal wells drilled in Q1 were in production during the quarter. By July a total of 24 are expected to be completed, implying approx 15 new wells coming into production in Q2 and another 6 in Q3. Very large production increases about to occur in Q2 and Q3.
Already considering acceleration of drilling plan for 2013, to be finalized in Q3.
Overall, BCEI is running comfortably ahead of expectations and much of the upside in the preceding points from the conference call are not yet factored into analysts' estimates. In particular, note the analysts' quarterly sales estimates, they're too low.
The 2013 picture is excellent. Guiding 2012 production at 8,700 to 10,000 Boepd, from a Q1 2012 average of 7,100 Boepd, implies a 2012 y/end exit rate of 12,500 Boepd or more. Even a moderate capex plan for 2013 should lead to a low-ball average 2013 Boepd of 14,000. Using a conservative $85/Bbl, this equates to 2013 sales of about $435 million, much higher than the current analyst estimates for BCEI.
Furthermore, the company highlighted in the conference call how its 600 million revolver, almost completely unused, allows it to make desirable acquisitions at short notice. If such an event were to occur, shareholders should expect it to be highly accretive. Given its already cheap valuation (next year p/e of 6.9 at $19.40), and the multiple prospects in the works for increased sales and earnings in 2012 and longer-term, it is hard not to like BCEI. Little wonder that insiders were buying recently in the $19-20 range.
Conference Call
The conference call was 50 minute in duration, the numeric notations below enable investors go to specific parts of interest. Some paraphrasing and shortening used.
[start] The company spent $60.9 million in Q1 drilling and completing 16 wells with a further 26 wells awaiting completion at Qtr end. Wattenberg; drilled and completed 5 horizontals and 4 verticals. Mid Continent; drilled and completed 7 wells.

[3.00] Production for Q1 was 7,100 Boepd and in month of March averaged 7,900 Boepd.

[4.30] During the Qtr we drilled 42 gross or 36.5 net wells and completed 16 gross or 13.7 net wells. We also performed 33 recompletions. This was an acceleration of our drilling plan which is anticipated to have a significant impact on production during Q2 and Q3.

[5.00] At March 31 we were in the process of completing 3 horizontal and 18 vertical wells in Wattenberg and 5 vertical wells in south Arkansas. At May 1 we had 2 horizontal rigs operating in Wattenberg and 2 vertical rigs in south Arkansas.

Our horizontal wells costs in Wattenberg continue to be flat at $4 million and we have not seen any cost inflation. We have 2 horizontal rigs under contract and have not had any problems securing water or fraccing sand and we have a dedicated crew from Halliburton.

[5.50] In Wattenberg production continues to rapidly increase in Q2. We completed 5H wells in Q1 2 of which have produced for more than 30 days to date. These 2 wells had average 30-day production of 541 Boepd. Together with the first 4 wells completed in 2011 our average 3-day rate is now 486 Boepd, of which 72% is oil.

During Q2 we achieved the highest 24hr rate for a well at 915 Boepd, of which 63% was crude.

We continue to apply enhancements to our program. For example we recently increased the number of stages from 16 to 18 in the same approx 4,000 feet laterals in our most recent completions.

[7.00] Our Niobrara horizontal wells continue to support a 312Mbo type curve which assumes a commodity mix of 65% oil and 35% gas. Calculating volumes on a combination of oil, liquids and dry gas yields an EUR of 356Mboe being 57% oil, 19% NGLs and 24% dry gas.

We have previously disclosed expectations of 215 Niobrara horizontal drilling locations @ 80 acre spacing. This only includes acreage where we have 50% control. When we include acreage where we have less than 50% working interest as of March 31 our location count was approx 290 locations @ 80 acre spacing.

New opportunities continue to emerge in Wattenberg. We plan to participate with an offset operator in a 9,000 foot lateral during 2012. Participating in this well will provide us with valuable information we will use in drilling our own extended laterals planned for H2 2012. Noble drilled an extended reach lateral in 2011 and has seen dramatic improvement in recovery and returns over the standard 4,000 foot well. Expected reserves of over 750Mboe with a well cost of $7-8 million results in returns that are competitive with any shale plays in the country.

[8.35] We and our neighbors are primarily targeting the Niobrara B bench for horizontals using 4,000 foot laterals at 80 acre spacing. However, operators are currently testing both extended reach and down-spacing. Also, some neighbors are also testing the potential of the C bench and the Codell formation. To date results from extended laterals and additional horizons have been encouraging whilst data on down-spacing is still forthcoming.

[9.08] In the Mid Continent during Q1 we completed 7 wells in the oily Cotton Valley. We continue to have success using pinpoint fraccing completion techniques. Our new well program and active recompletion efforts continue to significantly increase production from the region which has grown from 900 Boepd in 2008 to an average of 4,334 Boepd in 2012.

The entire Dorcheat Macedonia field has been engineered into our product reserves at 10 acre spacing. At March 31 we had 147 gross locations. We are encouraged by the potential to down-space the area based on the lenticular nature of the stacked sanded shell sequences of the Cotton Valley formation. We plan to test this potential during the second half of 2012.

[10.10] During 2012 we plan to expand our Dorcheat gas processing facility doubling capacity from 25 million cubic feet/day to 40 million by Q1 2013. This facilitates increase oil output from the field.

[10.45-12.50] Financial comments. Among other; LOE $12.03/Bbl in Q1 versus $13.99 in 2011. Expect to be lower going forward.

[12.50] Closing remarks. We reiterate full-year guidance based on a full year capex of $250 million and excluding potential acquisitions. We will operate 2 horizontal rigs and 2 vertical rigs in the Rocky Mountain region and 2 vertical rigs in the Mid Continent. We expect our 2012 drilling program will conclude in Q3. We estimate this will drive production to double over 2011, averaging 8,700 to 10,000 Boepd for 2012. We are thrilled by the results from the Wattenberg field, giving us high confidence to aggressively develop this asset over the next several years. Our goal and message for 2012 has been "hitting targets" and I'm pleased we've accomplished this in Q1. We have communicated at every opportunity that this is a team who believes very strongly in doing what we say we are going to do. We will work hard to meet and hopefully exceed your expectations.

Q&A

[14.15] Q: Downs-pacing Niobrara to 40 from 80 acres, what is confidence level? A: Very confident about 80 acres. About 40 acres results are encouraging so far. We know from vertical wells that draining area is small so going to 40 acres is logical step.

[15.27] Q: Have you seen all Niobrara benches and Codell in all your acreage? A: In all our Niobrara acreage we've seen all three Niobrara benches, we see Codell and Greenhorn too but as you move east the Codell becomes relatively thin and we would not look to drill currently in the eastern part.

[16.00] Q: In terms of Wattenberg horizontal completions how is that going to ramp up in the year to hit guidance? A: We drilled 8 wells in Q1, we completed 5 of them but only 3 were online at March 31 and contributed any volume in Q1. We continue to go ahead with our 2-rig program and it will be about 14 days from spud to rig release on average. We follow quickly after that with fraccing and currently our spud to first production is averaging 44 days YTD. That's what I would assume for rest of year.

[17.15] Q: For the full year what is total number of planned Wattenberg completions? A: 24 horizontal wells and we expect to complete these by about July.

[17.40] Q: Any drilling in back half of year? A: We are discussing that with Board of Directors and with early results we'll probably have more discussions. Right now the $250m capex plan includes $146m allocated to the Rockies which reflect the 24 horizontal program.

[18.00] Q: And drilling in 2013? A: Based on what we see today we'll probably accelerate our plans.

[18.30] Q: Any locations from your less-than-50% WI in this year's capex plan? A: We will see some of these less-than-50% owned wells over time. The only one included in this year's $250m capex plan is the well we are participating with the offset operator mentioned earlier. Q: And are these less-than-50% properties horizontal or vertical? A: Every one is horizontal spaced at 80 acres and only in B bench.

[19.40] Q: Looking at what other operators are doing are there risks in being able to frac down into C bench, or is there good barrier? A: Based on a lot of info we see from vertical wells we have seen some height growth that is something we would plan in terms of getting good vertical coverage. There has been about a dozen C bench horizontal completions and the reason they're doing that is that when we focus on the B bench and our micro-seismic does show our fraccing in the A bench could be a significant contribution but we don't see that on the C bench. So to access the C reserves the conventional wisdom right now is that we need to put our lateral within the C bench.

[21.00] Q: How much of a completion backlog are you comfortable carrying before taking up an additional frac crew? A: Horizontally we're comfortable with where we are right now. At the end of Q1 we had 3 waiting completion but essentially that would've happened the next week. Our backlog is not substantial in the horizontal wells. Vertically, we've been drilling wells in pads and that's why the majority of wells drilled but not completed in Q1 were vertical wells in the DJ basin. We will quickly take care of that because we'll frac them in batches too. And we've recently added a second frac crew for the vertical wells.

[22.50] Q: How long for wells to clean up before you see a peak 24hr rate? A: We've been using more controlled flow-back in the last few wells, but we probably get our peak in first week, that's about 3 weeks after initial flow-back. Q: You seen good IP rates on the first Niobrara wells in the qtr, have you now seen enough data on the other 3 wells completed in the qtr? A: Because of controlled flow-back the IP rate are 24hr and are coming in just as expected but we've not been reporting these. We think it more meaningful to share our 30day IP rates once the wells are completed and lined out. Q: How about the rates on the 4 completed in 2011, we have 30day but do you have longer data? A: Those 4 wells are just crossing 60 days now and they are within expectations.

[26.00] Q: As you drill across the acreage any variability of the geology within the Niobrara, keeping the lateral within the zone, or faulting, or rock quality etc? A: We have seismic all over the acreage and have identified no problems or drilling issues or surprises and no problems staying within the bench. Noble drilled about 170 horizontals and there's over 200 total drilled in the Wattenberg. We use the same teams and we have our own technical teams on the wells - there is a very high experience level here.

[28.00] Q: Are you drilling a lateral into the C bench thinking that laterals in the B bench may be tapping into the A but not the C, do you think fraccing in C will get everything in all three benches? A: No, we think C has potential but we couldn't capture B and A from C. What you may see is 2 wells, one in B and one in C in the same area.

[32.00] Q: How are you against the $250m capex plan? A: Spot on, no deviations.

[32.55] Q: Have you lined up Codell proposal for H2? A: This is in process and we will talk to the board. Everything we've seen from Noble and Anadarko has been positive.

[33.40] Q: Mid Continent, Dorcheat field, we saw good uplift in Q1, should we view that as lumpy against plans for rest of year? A: No, we will continue at same level of activity as Q1 with maybe slightly less recompletions. We forecast a relatively smooth increase in production towards year-end.

[35.00] Q: Could you extrapolate any of the improvements you had on the 30day IP rates, why were recent results better than prior vintage? A: We haven't made any major improvements but we have done some tweaks like 2 extra stages etc.

[37.50] Q: Any potential bolt-on acquisitions in Wattenberg? A: We are acquisition orientated in or growth, we are known for not overpaying, it is very competitive in Wattenberg right now but we continue to look to pick up assets.

[39.00] Q: In North Park do you have timing when to expect first wells to be drilled? A: We have $18 million budgeted in North Park, including seismic which we just completed and are now evaluating. We have 3 potential horizontal wells and will discuss with the board, expect in H2 2012.

[39.50] Q: Reason for the reduced dry gas production in Q1, and should we see the gas/oil ratio increase in rest of year because you previously guided to 30% gas? A: We've seen production from Mid Continent be more oily and that drove the overall mix towards oil in Q1. As we move forward in the DJ Basin we're seeing similar things. Overall we would probably be between 70-75% oil as we've seen in Q1.

[41.10] Q: What is the average working interest % in the wells that the company is non-operator? A: The 290 well locations we mentioned are net wells (up from 215).

[42.00] Q: Why increase the revolver to $600 million? A: We want to make sure we have the flexibility and room to move for acquisitions. Sometimes the best deals are given to the person who can deliver cash at very short notice so anyone we're negotiating with knows that we can write a check immediately.

[43.30] Q: Pls elaborate on timing of 24 Wattenberg wells, you said July, how does this stack against initial plans? A: We now plan to complete by July, this is 45 days ahead of original schedule.

[44.00 Q: When do you anticipate having test results for Codell and North Park and pls update how you're thinking of North Park near-term. A: North Park was entered into in 2006 and we've always known that Niobrara was productive there. There's a lot of vertical well production that dates back 20-30 years. EOG drilled 7 horizontal wells since 2007 and recently moved that up to 4,000 foot plain vanilla laterals. We are watching that very closely. We completed seismic this year where we plan to drill one of our laterals. We don't expect to have any data coming from those wells until towards the end of 2012, or in Q1 2013. It's probably the same for Codell in Wattenberg but with our offset operators we feel more confident with the Codell potential - so we may accelerate that depending on discussions with our board.

[46.20] Q: If you are able to include A and C benches in the Wattenberg would that double your inventory there? A: No, the way to look at this is that the A bench is probably draining the B bench too based on micro seismology etc. But we are confident, and so are our neighbors, that we're not draining the C bench which has a lot of potential. We would have to factor that in, it wouldn't be a doubling to our Wattenberg well count but once it is shown to be productive it would be a significant increase.

[47.30] Q: To clarify about what you said about ramping up drilling in 2013; this year you plan to do 24 Niobrara horizontal wells, could you guide approximately for 2013? A: We've had preliminary discussions with the board and we believe we'll be asking them to increase the number of wells drilled in 2013. We have lots of capital capacity to increase our program but it will be Q3 before we formally put a 2013 drilling plan to the board.

[48.30- End] NGL mix discussion.