By Sean Geary
Citing ineffectual and capricious government policy, Moody's has reaffirmed its negative outlook on South Africa's credit rating, as its economy is now experiencing slower growth in addition to stubbornly high unemployment.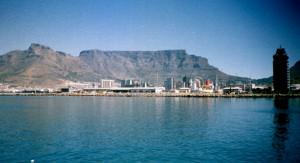 Cape Town harbor, South Africa
The hallmark of Jacob Zuma's Administration in South Africa has not been resolute policy initiatives; rather, his presidency has been fraught with second-guessing and pandering to populist interests, preventing meaningful reform.
One such example cited by Moody's was planned highway improvement around Johannesburg. The plan called for the implementation of toll booths to collect fees from drivers which would in turn be used to improve the quality of the roads.
However, due to widespread opposition to the tolls, these measures have been put indefinitely on hold. This lack of commitment to policy makes rating agencies uneasy as it is indicative of an inability to put into place the reforms necessary to ameliorate the structural deficiencies of the South African economy.
The most glaring impediment to South African economic success going forward is the country's stubbornly high unemployment rate – currently at 25%. Zuma has attempted to ameliorate the country's desperate labor situation by engaging in large infrastructure projects; however, as illustrated above, his administration has found it difficult to secure funding for these projects.
The current global macroeconomic environment isn't helping South Africa, either. Like many other emerging markets, South African trade is heavily dependent on European demand. With most of the euro zone slipping into recession, South African manufacturing will suffer as a result. South Africa is predicted to grow at just 3% this year, well below the 7% threshold widely regarded as the necessary level of growth for the country's high unemployment rate to begin subsiding.
As for the EZA, it looks poor technically, below its 50, 100, and 200-day moving averages. Furthermore, as miners make up a large chunk of the ETF and gold has underperformed of late, it may be a while before EZA recovers.
As a result, investors looking to invest in South Africa may get better opportunities later in the summer, as EZA looks poised to fall further from here.