Electronics For Imaging (NASDAQ:EFII) shares are getting clobbered Thursday morning after the company late yesterday issued disappointing earnings guidance.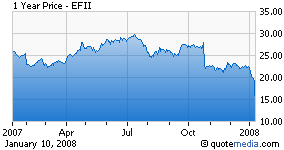 For the fourth quarter, the company expects non-GAAP profits of 22-24 cents a share, sharply below the Street consensus of 37 cents. EFII sees GAAP profits for the quarter of 10-12 cents. The company said there has been "weak demand" for its high margin Fiery printer controller products, resulting in pressure on gross margins. The company also had higher than expected operating expenses in the quarter.
"We are very disappointed with the results of our Fiery segment, which were weak across all our OEM partners," CEO Guy Gecht said in a statement. "We are implementing significant steps to align our spending with this lower revenue and will take a restructuring charge in Q1 to reflect our reduced cost structure. While it will take some time, we are committed to taking the necessary steps to regain our traditional levels of profitability and growth."
For Q1, the company sees revenue of $133 million to $137 million. The Street had been expecting $155.3 million.

Ben Reitzes, an analyst with UBS, pointed out in a research note this morning that the company gave no details on its restructuring plans. He thinks radical action is required. "We believe it is time EFII got serious about creating shareholder value given a decade of inconsistent results in controllers," he wrote. "We have been disappointed with the lack of urgency and believe EFII's options include raising the stock buyback authorization, breaking up the company, or selling itself."
EFII shares Thursday are down $5.16, or 27%, at $14.01.