Q3 2012 Financial Results
Electromed Inc. (NASDAQ:ELMD) reported financial results for the fiscal 2012 third quarter ending March 31, 2012, on May 15th. For the second straight quarter revenue came in well below our estimate. In Q2 management noted that layoffs of certain underperforming sales personnel impacted revenue in that period. In the most recent quarter, Q3, reimbursement hindrances impacted revenue. As has been noted in the past, the reimbursement amount for SmartVest can differ among third-party payers (most notably between Medicare and private payers) as can the reimbursable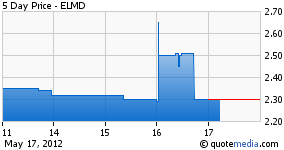 diagnoses. The indication from management was that while the number of prescriptions grew year-over-year, a greater number of prescriptions were either reimbursed by Medicare or were not reimbursed altogether, which caused the contraction in revenue in Q3 2012. We think another factor that caused Q3 revenue to come in lower than our estimate was slower net growth of the size of the sales force - while ELMD is still adding headcount, the pace has been slower than management had previously expected, at least some of which is likely a result of the turnover in Q2. In addition, there's a learning curve for newly hired reps, which means there is typically some lag between the date of hire and when reps reach optimum productivity.
As the size of the sales force can have a very direct relationship on the level of revenue, it has been an important metric to look at. Management noted on the call that at the end of Q3 (3/31/2012) the company had 21 sales reps, currently (May 2012) has 22, and has postings out for 3 more. This compares with 21 at the end of Q2 (12/31/11), which fell from 23 at the end of Q1 (9/30/11). Prior to the sales force hiccup in Q2, management had been shooting to have about 27 reps on board by the end of the current fiscal year (6/30/2012). That's now unlikely to happen. Nonetheless, management affirmed on the call its strategy to regularly add reps remains intact. We have trimmed some of our Home Care revenue estimates to account for the slower than previously anticipated growth in the sales force, although our long-term outlook remains highly positive.
Revenue
Q3 revenue of $4.77 million was down 8% y-o-y (flat sequentially) and consisted of $4.36 million (-7% y-o-y) from the Homecare segment, $165k (+15% y-o-y) from International and $249k (-32% y-o-y) from Government/Institutional.
The relative weakness in the Homecare segment reflects the reimbursement factors as well as the hangover from the recent turnover in sales personnel. As noted, our modeled revenue growth estimates continue to reflect the expectation that ELMD continues to add sales headcount throughout the remainder of the current year and beyond. While Q2 and Q3 are typically stronger quarters, this may not be the case for the current year as a result of restocking the sales force and getting the replaced positions up to speed and productive - we expect that this might result in Q4 revenue coming in stronger than either Q2 or Q3.
Total revenue came in about 14% less than our estimate, despite International sales coming in right on with our $165k number. ELMD recently took steps to facilitate growth of the International business including signing distribution agreements with Linde Healthcare and Leader Healthcare FZCO for the German and parts of the Middle East region, respectively.
Gross Margin
GM came in at 70.6% compared with our 74.0% estimate. Electromed's GM can jump around from quarter to quarter based on the mix of reimbursement rates and management indicated on the call that this relatively low GM is not expected to persist over the longer term.
Operating Expenses
SG&A came in at $2.90 million, or 60.8% of sales, compared with our 58.0% estimate. Similar to Q2 where revenue also came in meaningfully below our estimate, the higher-than-modeled SG&A as a percent of sales is likely mostly attributable to the fixed-cost portion of SG&A, which is more exposed with revenue coming in below our estimate. ELMD continues to invest in support infrastructure and personnel - mostly customer service, reimbursement and billing - activities which are essential to growth of the business. As we've noted in the past, we expect these fixed expenses in SG&A to be leverageable as revenue grows - but in the case of the past two quarters where revenue falls short, these expenses are highlighted and crimp the bottom line.
Q4 2012 expenses will include a severance charge of approximately $230k related to Bob Hansen's retirement. The charge is included in our SG&A number for Q4.
R&D expense was $238k in Q3, well below our $304k estimate. Management expects R&D expense for the full-year 2012 to be about 5% of revenue.
Net Income / EPS
Net income and EPS were $95k and $0.01, well below our $338k and $0.04 estimates - the difference fairly evenly spread between the miss on revenue, lower GM and higher SG&A as a percent of sales.
Cash
Electromed exited fiscal Q3 with $1.39 million in cash and equivalents, compared with $1.75 million at the end of Q2. Cash from operating activities was an inflow of $147k in the most recent quarter, but stripping out the increase in working capital, cash from operating activities was an inflow of $284k. Through the first nine months of fiscal 2012 cash used operating activities was $1.68 million and was an inflow of $886k ex-changes in working capital.
Along with the cash balance there's about $3.5 - $4.0 million in borrowing capacity under the revolver. The bank debt, which was renewed in January for another year (margin went up slightly from 2.75% to 3.08% over LIBOR) includes up to $6MM under a revolver, $1.5MM term loan A (monthly principal, due 12/2014) and $1MM term loan B (monthly principal, due 12/2012). Terms of the revolver allow ELMD to borrow up to 60% of eligible A/R less balance on the term loan B. Assuming A/R continues to grow at the recent pace and capex uses on average another ~$250k/quarter (capex averaged ~$254k/qtr the last three quarters), cash balance plus short-term borrowing capacity represents about 18 months worth of operating cash (includes capex and monthly principal payments) - this assumes ELMD continues to successfully roll over the bank loans. If, when and how much cash ELMD may need to raise to fund growth of the business (mostly working capital) will depend on a number of things including timing of A/R collections and capex and inventory investments. Raising capital is not a near-term need, however and we do not view this as a significant concern.
Valuation and Recommendation
We now look for EPS of approximately $0.09 (excluding expected severance expenses in Q4) in fiscal 2012, down from $0.12 prior to Q3 results. EPS in our out-years have moved from $0.25 to $0.21 in 2013, $0.33 to $0.30 in 2014, and $0.41 to $0.38 in 2015.
We continue to value Electromed using Hill-Rom's (NYSE:HRC) long-term PE/G ratio as a comparable. Hill-Rom's long-term PE/G currently sits at 1.31. We model ELMD to post EPS of $0.38 in 2015, implying a four-year CAGR of 31%. Based on a 1.31 PE/G, ELMD should trade at about 41x 2012 EPS - or ~ $3.70/share. We are moving our price target from $4.00/share to $3.70. The stock currently trades at about $2.50. We are maintaining our Outperform rating.
Disclosure: I have no positions in any stocks mentioned, and no plans to initiate any positions within the next 72 hours.
Disclosure: I/we have no positions in any stocks mentioned, and no plans to initiate any positions within the next 72 hours.
Business relationship disclosure: I work as a Consultant Analyst for Zacks Investment Research. The article is written by me and is 100% my opinion. I receive compensation from Zacks for writing equity research reports and providing valuation analysis on this company's stock and expect to do so in the future. Zacks receives compensation from the company. Please see the Zacks Disclaimer for further information: http://scr.zacks.com/Disclaimer/default.aspx