Rexahn Pharmaceuticals (NYSEMKT:RNN)
In January 2012, Rexahn Pharmaceuticals (RNN) decided to focus on its cancer drugs and ignore its other drugs. In the next 12 to 18 months, Rexahn will advance its oncology pipeline by taking multiple compounds into human trials as well as aggressively seeking partnerships for several of their cancer drugs. See Key Goals of Rexahn.
Finances
Rexahn has dramatically cut its costs by stopping all other trials and instead focusing on small phase I & II cancer trials. As of March 31, 2012, Rexahn had $11,326,743 in total cash, restricted cash and marketable securities, which it believes is sufficient to cover the cash flow requirements through March 31, 2013. In a year's time it hopes to advance the development of the drugs sufficiently to gain a new partnership or increase the price of the stock sufficiently to raise more money to continue its research. (Quarterly report.)
Rexahn's Cancer Drugs
Rexahn Pharmaceutical's cancer drugs include Archexin in stage II trials. RX-3117 in Phase I trials partnered with Teva Pharmaceutical Industries Limited (NYSE:TEVA). On drug RX-5902 and drug RX-8243 Rexahn will file an Investigational New Drug application to start trials. As of May 16, 2012 we are still waiting for the Investigational New Drug applications.
Archexin
Archexin is a first in class, potent Akt protein kinase inhibitor with the potential to inhibit cancer cell survival. The drug has Orphan drug status for five different cancer types, including renal cell carcinoma, glioblastoma, pancreatic, stomach and ovarian cancers.
Rexahn has completed enrollment and started the Phase II metastatic pancreatic cancer trial of the drug Archexin. Rexahn expects to report the results of the trial in the third quarter of 2012. If this trial goes well Rexahn might find a partner for further trials. Furthermore, Rexahn may suddenly surge in price with a successful Phase II trial giving the company an opportunity to raise cash.
On May 8, 2012, Rexahn Pharmaceuticals announced that it has submitted a Phase II protocol for the clinical study of Archexin as a treatment of ovarian cancer to the U.S. Food and Drug Administration (FDA). The Phase II trial will assess the safety and efficacy of Archexin when used in combination with both carboplatin and paclitaxel. The study will be conducted at multiple centers in the United States. Ovarian cancer is the fifth most common cancer among women, and it causes more deaths than any other type of female reproductive cancer. (Archexin Phase II Protocol.)
RX-3117
As of May 16, 2012, Rexahn continues to enroll patients in a Phase I trial for RX-3117. Data for this trial is expected in the second half of 2012. This drug is partnered with Teva Pharmaceutical Industries limited, so expect Rexahn to push the drug through its trials quickly. Rexahn can receive developmental, regulatory, and sales milestone payments, as well as royalties on worldwide sales. As this drug advances through trials it could lead to a higher stock price, which could let Rexahn raise money to finance further research and development.
RX-5902 & RX-8243
As of May 16, 2012, we continue to wait for an Investigational New Drug applications to be filed on either of these drugs. Once they file then they can begin Phase I trials. These drugs are early in their development so you cannot expect them to effect the price of the stock yet.
Chart of Rexahn Pharmaceuticals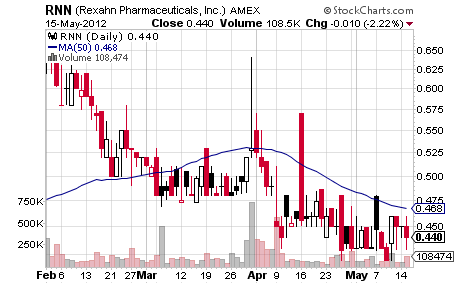 This chart shows the current situation at Rexahn Pharmaceuticals. The stock continues to slowly move downward as Rexahn uses up its cash. However I think the management has cut costs to the bone so we are basically waiting for some positive news. The company has enough cash to last a year before it has to raise some money. This allows ample time for something positive to happen in one of its trials or for a possible partnership with one of its drugs.
Disclosure: I have no positions in any stocks mentioned, but may initiate a long position in RNN over the next 72 hours.