U.S. Airways Group, Inc. (LCC) is facing extreme downward momentum. The question in my mind is, is it sustainable?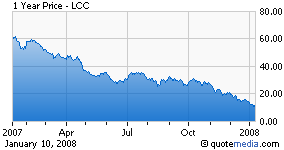 LCC's book value is $16.01 per share, which is $4.80 over Tuesday's trading price. It's very oversold and only Tuesday we started seeing some after hours block trading (30,000 share block Tuesday night). This is a good sign.
It's difficult to tell when airlines will recover given our current oil situation. They're all raising prices and struggling to survive. It's worth monitoring and if you're a risk taker, possibly legging into one or two with a small position size.
Of the group, LCC is the most beaten down. LCC has more domestic exposure, but is expanding its international presence - flights to Heathrow begin in March 2008, and flights to China will begin in 2009.
Yesterday, UBS upgraded a bunch of U.S. legacy carriers, saying it expects a major deal to be announced in the next six months and airline stocks to rise as a result. The broker told clients it thinks a deal between Delta Air Lines (NYSE:DAL) and Northwest Airlines Corp. (NWA) is most likely, which it said would put investor pressure on Continental Airlines Inc. (NYSE:CAL) to act, perhaps by merging with UAL Corp. (UAUA). UBS upgraded AMR Corp. (AMR) to neutral from sell and Continental, Delta, U.S. Airways , Northwest and UAL to buy from neutral.
Disclosure: Author is long LCC.