CVD Equipment Corp. (NASDAQ:CVV) reported earnings Tuesday that left some on the Street wanting more. The company recorded revenue of $7.2 million for Q1, up 15% from Q4. Although this marks the company's seventh quarter in consecutive year-over-year growth, the Street wants more and faster. It's not going to happen, at least not yet.
CVD Equipment aids in the research and development of solar, nano, and advanced electronic components. Therefore the company's revenue stream is directly correlated with the demand for energy savings, energy generation materials and products needed to address rising energy costs. Just last week, the company announced a multimillion-dollar order from a major aerospace component manufacturer needing a custom Chemical Vapor Deposition System scale-up solution for its next generation of composite products. However, these multimillion-dollar deals may be drying up.
A look at the company's backlogs shows a decrease of 41% from the same period last year. Backlogs do not necessarily indicate future profits or growth (or in this case a future decline). However, they do provide a reasonable tool to measure short-term revenues.
CVD Equipment backlogs include all accepted purchase orders excluding all POs that have been partially completed or fully completed. Fully completed purchase orders will show up as revenue and partially completed orders can be found as deferred revenue. A good indication of CVD Equipment's future growth can be measured with bookings. Bookings, which are the sequential difference in deferred revenue in addition to the current revenue, can provide a clear picture of where the company is going.
Bookings for Q1 slid 35% down to $6.1 million, from $9.4 million in Q4. This was the first sequential decline in bookings since 2010. In the following chart, I have mapped out CVD Equipment's backlog, bookings, and revenue for the last 12 quarters. The chart paints a grim picture for the foreseeable future.
Click to enlarge image.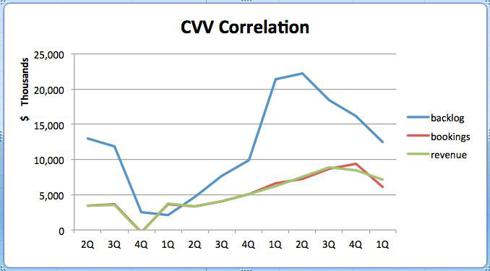 Back in October I wrote an article titled "Undervalued CVD Equipment: Facilitating A Change In Semiconductors," which focused on the massive transformation of semiconductors and CVD Equipment being at the forefront. The growth potentials listed in the article are still all there, and CVD Equipment is well positioned to capitalize on these transformations. However, Q1 bookings have shed light on a possible decline in revenues. I expect a year-over-year decrease in Q2 and, at best, revenues will be flat. This is alarming for a company that has been growing by double digits over the last two years.
This slowdown in demand does not seem to be affecting only Q1. Due to economic conditions, political conditions, and budget reductions, the next six months will see slower demand. When considering a valuation, I currently cannot price in any revenue growth for 2012. Noting 2012 revenues staying flat at $32 million and net tangible assets of $24 million, the stock is worth about $9.30.
Since customers using CVD Equipment for research usually become future production customers, the company has purchased a larger facility. With plans to move in the middle part of 2012, the new facility will provide the company with 50% more space. CVD Equipment must be anticipating large purchase orders and new customers. In the meantime, I will be on the sidelines keeping a close eye on future backlogs and deferred revenue as a barometer that the company has changed its trajectory.
Disclosure: I have no positions in any stocks mentioned, but may initiate a short position in CVV over the next 72 hours.