By David Russell
Facebook (NASDAQ:FB) is scheduled to launch its initial public offering tomorrow, but the best trade may be to avoid the stock altogether or even to short it.
Several areas worry me about this IPO. The first is the valuations, which are quite expensive based on the table below. Does Facebook deserve to trade at such rich premiums to well established companies such as Apple (NASDAQ:AAPL) and Google (NASDAQ:GOOG)?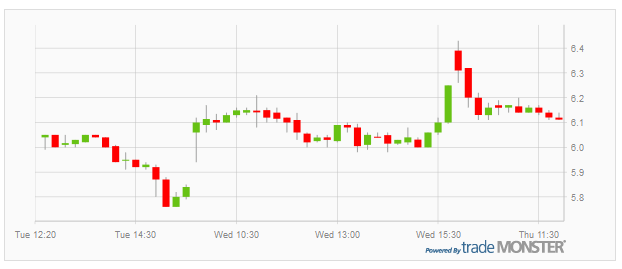 Another problem is the momentum of its business: Revenue surged 44% between the December 2010 quarter and the December 2011 quarter, but net income rose only 20%. Meanwhile, the "cost of revenue," which mainly entails items like servers and data storage, shot up by 65% while marketing and sales costs more than doubled. (See page 54 of the company's S-1 filing.)
Translation: Facebook is getting less bang for the buck, paying more to get each incremental dollar of revenue.
I am no expert on the company's operations, but I'd venture to guess that it is shelling out tons of money to host dog and wedding pictures of everyone on the planet and failing to monetize it. The growth on the marketing and sales line indicates that Facebook is also hiring tons of salespeople to jam revenue in the door.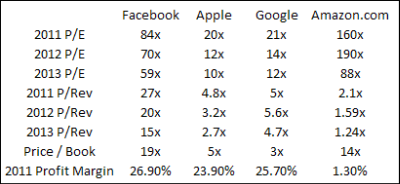 In many ways, this should come as no surprise. As a new business, Facebook still needs to discover the right way to sell its services. And that costs time and money.
But so far it seems that the company isn't not doing a very good job on this front. That was the verdict by General Motors (NYSE:GM), which announced that it would stop advertising on the social network.
This came as a major blow because GM is one of the top five consumers of advertising in the country, with almost a century of experience in print and on the airwaves. The automaker is not just any old name, but the kind of core customer that any media company needs to have on its roster.
So why is everyone so excited about Facebook going public? First, we have the banks out there beating the drum. Second, we have no liquid market, and therefore no reality. Third, there is no incentive for anyone to be negative on the name -- at least not yet.
Say you're an institutional money manager who answers to committees and large clients: You have to own the stock before the IPO because if you miss a big winner, your career is at risk. If it proves to be a failure, on the other hand, you'll have cover because all your competitors were in the same boat.
Once the stock begins trading, it will be a completely different matter. That's when talk is cheap and money rules. And that is when, I believe, Facebook could face a difficult reality check.
The good news is that there are other new web companies that probably make much better investments. Take Chinese social-networking stocks like Renren (NYSE:RENN) and Sina (NASDAQ:SINA), for instance. Both seem to have bottomed after getting hammered in the last year, and both have reported strong results recently. (See related story based on researchLAB data.)
LinkedIn (NYSE:LNKD) is another to consider. Unlike Facebook, its margins are expanding. It also seems to be rooting itself firmly in the world of executive search and professional networking, and it is increasingly trusted by recruiters and HR departments. That kind of specific long-term market position is exactly what Mark Zuckerberg's company lacks.
Finally, two others that have recently appeared on researchLAB are Glu Mobile (NASDAQ:GLUU), a maker of games for wireless devices, and Demand Media (DMD), which runs websites such as eHow. GLUU's earnings have been strong and looks like a probable takeover candidate to me. DMD has also had good earnings and recently rebuffed a buyout at the hands of Thomas H. Lee.
A version of this article appeared in optionMONSTER's What's the Trade? newsletter on May 16.