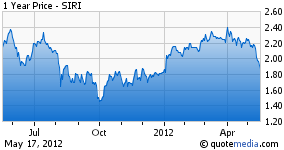 What has been a foregone conclusion to everyone in the market that appreciates value is that fundamentals of Sirius XM (NASDAQ:SIRI) just didn't support its valuation - and as often happens in severe bear markets, Wall Street has begun to apply a considerable amount of punishment to stocks such as Sirius that sport inflated P/Es. But I'm not one to ever say "I told you so" but in this case I can't resist. As I have been saying for the past three months, no other stock on the market has appeared as a better short candidate than Sirius and today the shorts are laughing all the way to the bank as they cover lower and lower each week. The question is, how low will it go?
One question that was answered today is that the stock is not going to stay above $1.90 and recent evidence suggests that there is a chance that it may hit $1.65. Remarkably its technicals as distorted as they have become may not even matter in this current trend. The only ones that are certain to lose in this situation are the longs who continue to believe that history is a great predictor of future results while ignoring the present and more importantly what the market is currently saying - or better yet, what I have been saying.
As of this writing, the stock has reached a low of $1.85 on almost 70 million shares exchanging hands. With such a considerable drop it is plausible to suspect that perhaps, CEO Mel Karmazin just might have sold some more of his options as I have been predicting for weeks. I have always said that if you are not in a state of perpetual worry in today's stock market then you're probably not paying attention. Clearly Sirius investors have opted to focus on their wishes instead of focusing on making intelligent decisions.
It has always been hard for me as an investor to take a position in a stock that has gone out of its way to seize the persona of the "little engine that could," but it is even harder for me to consider buying a stock that the insiders have been selling to the extent that Sirius insiders have over the past couple of months - including recently, the CEO himself. Disappointingly, as dire as things appear, investors still appear to have not learned any lessons and instead want to quickly point out that the entire market is down. It seems consumer staple's stocks such as Wal-Mart (NYSE:WMT) or Coca-Cola (NYSE:KO) or even McDonald's (NYSE:MCD) are not a part of the market. The difference is, their fundamentals and growth trajectory supports their valuations. And it also helps that one does not need to first buy a car, to become a customer.
As for Sirius, though it is down considerably, it still remains a good short. Not only because of known factors. But also because of factors that are unknown such as a full understanding of its capital structure and how Liberty (NASDAQ:LMCA) plans to acquire the shares that it needs to take full ownership. However, what Liberty had made it as clear as possible last week when it announced its forward contract to acquire over 300 million shares of the stock at a price of $2.15. While some was calling that as "the new floor" it was clear to the market that $2.15 would not be seen again for quite some time.
The logic just didn't add up. If one (or multiple parties) was the holder of the 300+ million shares that Liberty needed, why would they not negotiate higher than $2.15? Unless of course Liberty offered some type of a guarantee that there would be no added benefit of waiting. It would lead astute investors to wonder, how would Liberty offer that assurance? Remarkably, many still fail to see what is really going on. As I have predicted the stock is now under $2.00 and again as I have predicted, it has fallen below $1.90. The next target is $1.65 and investors need to brace themselves for a lesson of just how brutal this market is and how Wall Street is much smarter than many realize.
As I end this ode to joy, here are a few words to remember, "basher" , "short", "biased", "agenda", "forest for the trees", "manipulation", I'm sure that I've left a few out. However, if you have used any other these words over the past several months to describe authors that offer arguments contrary to your own, chances are you are feeling some regret today. And by the way, I told you so!
Disclosure: I have no positions in any stocks mentioned, and no plans to initiate any positions within the next 72 hours.