General Motors' (NYSE:GM) decision to drop Facebook (NASDAQ:FB) ads sounded an ominous note for some over Facebook's prospects of growing ad revenue; if General Motors says the ads don't work, who's going to bother to shell out the money to pay for them? This announcement probably came as no surprise to Facebook users, however, who usually close out each ad they see as it pops up, wanting to be rid of the distraction so they can get to the meaty business of sharing their lives with friends and strangers.
General Motors might be wise to pursue another option rather than turning its back on social network and mobile advertising completely. It might want to put its advertising in the capable hands of the resident expert in mobile. These days, that expert appears to be Velti Plc (VELT).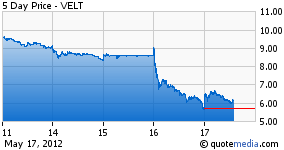 Velti, based in Ireland, is a mobile advertising and marketing company that helps brands such as Ford and National Geographic reach mobile consumers, earning revenues through licensing, managed services, and provided software as a service. Ted Stamas covers Velti's business well in his article "Velti: 'Mad Men' In The New Millennium." The key distinction between Velti and other mobile social plays such as Facebook, Pandora (NYSE:P), and Google (NASDAQ:GOOG) is that Velti's business is based more on designing effective ad campaigns, rather than plastering smartphones with ads and hoping somebody will click or follow through on it.
Velti just reported earnings this week. For the fifth quarter out of five as a public company, Velti either met or surpassed both its own guidance and the analyst estimates. The numbers are fairly impressive -- revenue growth of 75% with improved margins, adjusted EBITDA growth of 260%, and an above-estimate guidance for Q2 with a small guidance raise for the year in both EBITDA and revenue (unless otherwise cited, all figures are from Velti's earnings reports). Some of that growth came from recent acquisitions, but while the adjusted EBITDA excludes the acquisition costs, taking that out from the adjusted EBITDA would leave growth of 80%.
Despite strong results across the board and a management team -- including CEO Alex Moukas and CFO Wilson Cheung -- that has, through results and strong presentations on conference calls and during investor conferences, proven Velti can execute its plans and meet its expectations, the stock absolutely plunged in the day following earnings. Shares lost one-third of their value and set a new 52-week low. Anybody who follows the stock and/or listened to the conference call would have been shocked. OK, I was shocked, at least.
So what happened? Velti has in the past traded negatively on its connection to Europe. Yet Moukas pointed out several times that Velti grew its business in Europe substantially -- 29% on the continent and 129% in the U.K., the latter partly acquisition-fueled. He went so far as to say the pending recession seemed unlikely to touch Velti. Elsewhere during the call, management forecast the Americas as being Velti's top revenue source this year, and stated that it was growing the business in Asia, having recently acquired Casee, the largest mobile advertising exchange in China. Europe wasn't a problem for Velti.
The company spent a lot last quarter, and some have cited the drop in cash balance from $75.8 million to $41 million as reason for concern. The cash and cash equivalents line for Velti has been as follows since year-end Dec. 31, 2010 (the company went public in February 2011):
Dec. 31, 2010: $17,354
March 31, 2011: $72,133
June 30, 2011: $159,440
Sept. 30, 2011: $140,389
Dec. 31, 2011: $75,765
March 31, 2012: $40,951
Cash balance is at its lowest level since the company went public. That said, management made it clear that the company is in an investment and growth cycle, and that Velti is not yet ready to focus on maximizing EBITDA margins at the expense of possible top-line growth. Considering the company has been growing EBITDA margins at a healthy rate regardless, and that it is still a young company, this seems like a reasonable plan.
Related to that cash balance, though, is the hike in days of sales outstanding and the relatively lower growth in trade receivables. Essentially, Velti isn't getting paid as quickly as it used to. On the balance sheet, trade receivables (invoices due to be paid Velti) grew by 20%, compared to 5% for accrued receivables (money paid early). Trade receivables grew to 45% of total receivables (trade plus accrued). For Q1 2011, this percentage was 53%; for the second and third quarters it was 48% and 46%, respectively. Only in the fourth quarter did this proportion drop down to 42%, quite likely because Velti received a lot of year-end payments for earlier billings. This could in part explain why Velti's earnings are so seasonal, though, of course, the holiday season advertising rush is the bigger part. In any case, a change at the beginning of the year in this balance hardly seems like cause to throw out the bathwater, let alone the baby. The company pointed out that it has only had to write off $1 million in 12 years of business, another strong sign that this might touch on the ridiculous side of overreactions.
The overall financial story remains strong for Velti. As mentioned, the company put out strong Q2 guidance for revenue and EBITDA and raised its year-end guidance, lifting the low end of the Adjusted EBITDA range and narrowing but raising the range of the revenue forecast. The company also reiterated guidance for positive operating cash flow in Q3 of this year and positive free cash flow in Q4 of 2012 this year (and it pledged to do this without raising equity, for that matter). For a young company still on the low end of the growth curve, this sort of performance is impressive -- Velti is certainly further along the profitability and revenue tracks than competitor Millennial Media (NYSE:MM). Tack on the estimates that the company will earn an adjusted $.74/share this year and the stock was incredibly cheap even before this drop. Now trading at 11.5 times 2011 earnings and 7.73 times 2012 earnings, with a projected growth rate of 37%, this seems insane. A big spending quarter and a hiccup in payments is hardly a reason to close shop on a promising company in a fast-growing field.
While I admit to getting burned by the post-earnings plummet, I am a strong believer in Velti as a company and a stock. The concern over the time it takes the company to get paid, while legitimate, has totally obscured its continued execution, improvement, and increasingly powerful position. This is a stock that, should the company continue to meet its targets, should rebound quickly as the operating and free cash flows go positive by the end of the year. Ironing out this hiccup, the stock should double -- and could triple -- from the May 16 closing price of $5.72.
Mobile advertising is a burgeoning space, and both investors and companies are trying to take a crash course in how to play it. It's all well and good to throw cash at the big names and the easy ads, but the savvier play may be to ask an expert to guide one through the new field. Velti may well be that expert. Shake off the bad response to good news and the nonsense, and you might have a winner.
Disclosure: I am long VELT.