Theravance (THRX) shareholders will want to mark February 27 on their calendars, as the FDA announced Thursday that it will meet to review Theravance's NDA for its drug telavancin.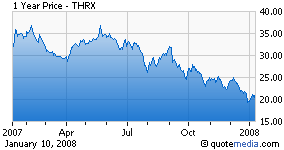 The FDA has already delayed telavancin's approval once, saying the company needed to submit revised labeling and re-analyzed or updated patient data.
Telavancin is a first-of-its-kind drug to treat "superbug" bacteria (essentially MRSA). Back in October, when the approvable letter was issued by the FDA, I wrote about my concerns over whether telavancin would eventually get approved. I still have a lot of concerns, and investors should be weary of this one. FDA panel reviews are not a good sign, as they are usually called when the FDA has concerns it wants addressed. However, new FDA rules require a panel review for first-of-kind drugs, so the panel could just be a formality.
Either way, I'm staying away, and I would suggest only using options ahead of this decision if you have to play this decision.
Disclosure: I have no position in THRX.