Ten years ago, if someone mentioned Brazil, I automatically thought of three things:
Save the Rainforest
Beautiful scantily clad women
A killer soccer team
Today, when Brazil is mentioned the beach bunnies still come to mind first, but I tack on one of the largest developing economies in the world. Who can possibly deny that Brazil was one of the great sleeping giants of the world? Best of all, their alarm clock doesn't have a snooze button.
From my studies of Brazil thus far, Brazil is a country who has made many astute prognostications regarding their long term growth. More importantly, they have done a significant amount of growth by using their natural resources to their own advantages unlike many countries around the world that were either forced, or have chosen to rely on foreign trade.
A perfect example of this are the lessons learned from the oil rationing during the 1970s due to the gas shortage/oil embargo from the OPEC cartel against many of the western nations. Brazil quickly adapted to the real possibility that oil could become growth prohibitive unless alternative fuels were found, and found quickly. Thus, began the first great ethanol infrastructure switch that is now paying tremendous returns by releasing Brazil from oil dependency.
I'm not sure if this was luck or a great display of managerial foresight, but I wish we had some of those minds running our national energy policy now.
The Largest Oil Company in the World by 2050?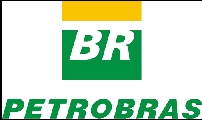 Petroleo Brasileiro (NYSE: PBR), also called Petrobras, is a state owned hydrocarbon energy production company headquartered in Rio de Janeiro. PBR has a multipronged business model by aggregating many of the segments of the involved in hydrocarbon discovery and production business together. Whereas, many large energy conglomerates contract smaller specialization companies, Petrobras performs many of these services "in house." The list below outlines these four segments
Exploration and production – PBR conducts its own exploration and discovery efforts in addition to its refinement and distribution.

Gas and Energy – PBR operates all natural gas markets (foreign and domestic) within Brazil.

Downstream – PBR controls the bulk petroleum byproducts (i.e. Plastics, fertilizer) in Brazil.

International – PBR is investing heavily in global exploration and discovery to a total of 15 billion dollars.
Over the last two years, PBR has seen a 250% increase in share price – primarily in the 2nd half of 2007 (Chart #1). This could be due to the increased coverage of international growth story stocks when compared to many lagging US domestic companies. Irregardless of the cause, PBR is a stellar performer and quite possibly the soon to be global oil power in the world.
Chart #1: 2-year chart of PBR vs. S&P 500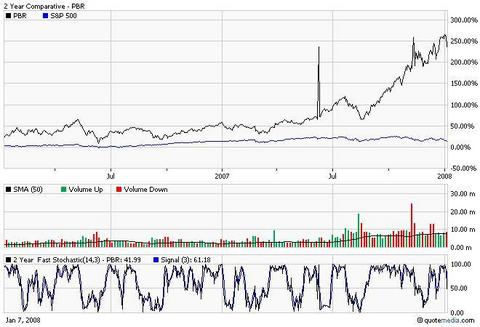 The Numbers
Despite the recent run up in price, PBR's P/E ratio is about 30% higher than its industry competitors by being in the low 18 range, yet with a future P/E of only 9 its still at very attractive share price.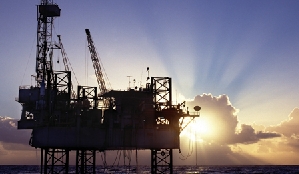 PBR operates essentially competition free on its own soil, as well as for multiple offshore oil fields. The rights to these fields may be partially owned by other international oil companies, such as BG Group based in the UK and Galp Energia based in Portugal, but PBR own upwards of 50% or more of these natural assets.
Of particular importance are two new discoveries made by PBR in Q4 2007. One of which being the Tupi Field announced in November 2008, which is estimated to contain up to 8 billion barrels of light sweet crude. The second discovery even more massive, is estimated to contain 5 times more than the Tupi field, which goes by the name Sugar Loaf field. As if this wasn't enough, the extra cherry on top of these two discoveries is that the oil discovered is Light Sweet Crude. For those who aren't familiar with the difference between Light and Heavy oil, Light oil is far less expensive to refine thanks to its lower heat requirements during the hydrocarbon extraction process.
The estimates are so mind blowing that these two discoveries will almost certainly allow Brazil to compete on a global basis with Middle Eastern nations and potentially put an end to the downtrend of global oil production. Therefore, this has the effect of extending the worlds known oil supplies and provides more "cushion" to those worries about oil shortages in the near future.
PBR has not yet completed their full analysis of these new discoveries, so any numbers to this point are educated estimates. Rest assured however, they will certainly improve the bottom line of PBR. Currently, growth estimates for the 2008 calendar year are around 20% but once the Tupi and Sugar Loaf fields are tapped, my estimation that growth will increase far beyond 20% per year.
Video Interview: As a confirmation, Ken Heebner, who Morningstar voted the top fund manager of 2007 and whose CGM Focus Fund saw an 83% increase over 80% last year, recently commented on PBR's massive earnings potential (link to video feed here).
Stock Performance
As mentioned, PBR has had a nice uptrend of recent which can be seen in Chart #2. The stock price still maintains a very bullish indication by its consistent rebounds from the low point trendlines (seen in green). However, a well tested resistance level at $119 has proven difficult on 2 occasions (possibly 3 if counting the December 10th peak).
Chart #2: 6 month Technical Analysis chart of PBR.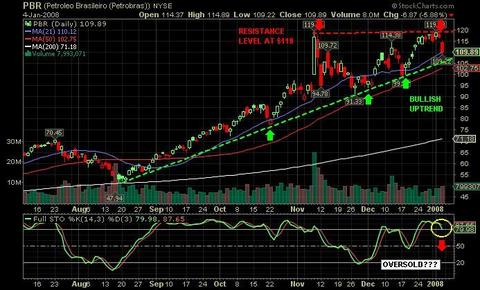 Technical analysis should never overrule fundamental analysis, but it provides an accurate method of dissecting a stocks past performance and identifying any potential risks not seen by fundamental analysis. Using the 80/20 Fast Stochastic (bottom segment) allows identification of an overbought / oversold indication and can be useful in knowing when to buy and when to sell (or short).
In case of PBR's share price around $108 (reference: 01/07/08), a possible buy signal is developing due to the close proximity to the lower support level of the uptrend line. However, with the volatility in the markets at this time and he overbought signal in the stochastic (see yellow circle in Chart 2), waiting several days for more directional confirmation is advisable.
Reasons to pull the trigger
PBR has multiple selling points, so much in fact that they don't need to be sold. The strong stock performance and earnings growth alone are enough to justify its purchase. With the addition of a potential 40 billion barrel oil discovery in one quarter, that's a definite trigger pull.
Analysts agree that these two discoveries will influence Brazil and PBR for many years to come, as well as putting them among the worlds largest light sweet crude suppliers as seen below.
"Tupi changes everything for Brazil and Petrobras,'' said Carlos Renato Nunes, an oil analyst with São Paulo-based brokerage Coinvalores CCVM. He currently maintains a buy recommendation on PBR.
Of course, one would expect such a statement considering these discoveries are the largest hydrocarbon discoveries in the last 30 years.
Perhaps the purchase of Petrobras' stock after the two new discoveries and the stock run up from the 2007 trading year is best summed up by President Luiz Inacio Lula da Silva: "God must be Brazilian."
The closing price of PBR from the previous close is on January 7, 2007 was $107.61.
Disclaimer: Author does own stock in this company which was purchased in August 2007.