As it closed out 2007 with a 33.1% return and a massive influx of money, iShares MSCI Emerging Markets Index (NYSEARCA:EEM) was the sixth-largest ETF by total assets. The fund's three-year annualized return of 32.5% made it the sixth-best performer among all ETFs for the period, according to Morningstar.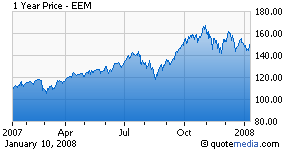 But if the long-running surge of EEM and emerging market stocks has become commonplace, so have quick downturns in the sector. The fund fell 3% Friday (1/4/08), closing out the week down 4.9%, as weak unemployment and jobs data heightened concerns about a U.S. slowdown. EEM's fall led investors and analysts back to a question that's plagued many of them as the fund's namesake index turned in its fifth straight year of better-than-25% gains: When will the quick dip turn into a sustained decline?
That leads only to more questions. Have Asian and other emerging markets decoupled from the American economy enough to survive a U.S. downturn? Will the credit-driven issues of the U.S. and Europe reach emerging markets? Do Chinese stocks, which make up 17.7% of EEM's portfolio since the Shanghai Composite Index jumped 97% in 2007, represent an emerging market bubble about to burst?
No one knows the answers, which are likely to determine EEM's movement going forward.
EEM tracks the MSCI Emerging Markets Index, which fell 1.77% last week, compared with a 4.52% dip for the S&P 500. The fund fell harder than its bogy, possibly because its representative sampling of the index's stocks come largely in the form of American depositary receipts—13 of its top 14 holdings— and worldwide names, whose short-term prospects may be tied more tightly to the U.S.
The fund typically invests in stocks from 20-plus countries, with a heavy emphasis on Asia ex-Japan names, which accounted for just more than half of all assets at the end of 2007. Chinese stocks top the list, followed by Brazil, South Korea, South Africa and Taiwan. The fund holds a slim 4.7% of assets in European and North American names, according to Morningstar data.
The result is a fund built for investors seeking a broad swath of large-cap emerging market stocks, in the hope that the rally, driven by rising commodity prices, a weak dollar and worldwide (non-U.S.) growth, can continue.
Despite the slide, Merrill Lynch offered some optimism, stating that all three will continue to boost emerging markets. "We think EM will offer a 'safe haven' of sorts, likely outperforming developed- country assets," Merrill wrote in a research note to clients [Source: Reuters].
Such an outcome would provide some confirmation for those who believe that "if the U.S. sneezes, the rest of the world will catch a cold" is an outdated saw. Last weekend, The Times of London's Gary Duncan said Asia's "pumped up economies, which have worked hard to become fitter and readier for the testing times of another world slowdown, may emerge as the clear winners in the downturn that is taking hold."
His thesis: The effects of the U.S. housing slump have hurt U.S. and European financial stocks, but so far Asia's banks remain insulated. Duncan even quoted another Merrill Lynch note: "The world does not build American houses."
Indeed, the fund's drivers are well-insulated from American banks and builders, with a mix heavy on Asian financials and global natural resources stocks.
Russia's OAO Gazprom, the world's largest natural gas producer, is listed as the fund's top holding. Its share price has more than quintupled since the stock was made available to foreigners in 2005.
Taking different share classes into account, EEM actually held more assets in two Brazilian stocks: Petróleo Brasileiro (Petrobras) (NYSE:PBR), the state-controlled integrated energy giant, and mining powerhouse Companhia Vale do Rio Doce (NYSE:RIO), at 3.96% and 3.72%, respectively.
Vale shares rode the global natural resources boom to a 123% return in 2007, while Petrobras, buoyed by a massive discovery of oil reserves off the coast of Rio de Janeiro, rolled on the high price of oil. Its shares rose 130% in 2007.
The No. 2 listed holding, South Korea–based POSCO (Pohan Iron and Steel) (NYSE:PKX), saw shares rise 86.6% in 2007, with strong demand amid cost-cutting and expansion into new markets.
Still, shares of EEM's Big Four fell between 4.6% and 5.9% over the last five trading days and dropped the fund's three-month loss to 3.6%.
It was another reminder that the world's stocks remain tied to the U.S., bolstering the idea that a prolonged U.S. recession could stop the long run, especially with inflation a threat in emerging economies.
The fund is currently ranked number five in the ETF Momentum Tracker newsletter and has been a portfolio holding for 77 days. Given its volatility, EEM should be viewed as a niche holding. In addition, the fund's history of outsized gains and the market's recent turmoil mean that it should also be approached with caution.