When it comes to the medical imaging services required to complete pharmaceutical clinical research, Bio-Imaging Technologies, Inc. (Nasdaq: BITI) has an unbeatable image.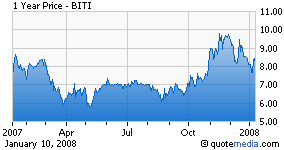 Over the past 17 years, Bio-Imaging Technologies has become the largest independent provider of the equipment and technology needed for medical imaging used in the pharmaceutical industry's clinical trials. Within the alphabet soup of CT, MRI, PET and DEXA, to name a few, Bio-Imaging Technologies has developed the reputation of a Grade A performer among contract research organizations.
The same holds true for Bio-Imaging's stock. While the share price has trended lower since hitting an all-time high in late November, the company's recent solid results have given investors reason to expect more from the Newtown, Pa., company.
Of five analysts surveyed by Thomson Financial, three have Bio-Imaging as a "buy," and two rate it a "strong buy."
Not bad for a microcap with a market capitalization of around $99 million.
As big pharma looks for ways to cut costs, one favorite technique has been to outsource functions. Having a third party handle the costly and time-consuming activities involved in getting a drug ready for FDA approval on the path to the marketplace is becoming more popular.
That's where Bio-Imaging Technologies steps in. Founded in 1990, the company saw its shares hit an all-time trading high of $9.95 on Nov. 29. Since then, Bio-Imaging's shares have bounced lower in the midst of a tumultuous market. Still, the stock remains considerably higher than its 52-week low of $5.75, established May 7. The stock closed at $8.45 on Wednesday.
For the quarter ended Sept. 30, Bio-Imaging reported continued strong results, with net income increasing 76% to $647,000, or $0.05 a share, versus $367,000, or $0.03 a share, in the comparable period in 2006. Backlog increased 26% to $88.7 million.
With some cash in its kitty, Bio-Imaging Technologies has made key deals in recent years, but as of Sept.30, it still had close to $15 million on hand.
One acquisition that took Bio-Imaging away from its core businesses, but in an interesting direction, was the purchase of CapMed in late 2003. The $550,000 cash-and-stock deal brought Bio-Imaging a leader in personal health-record technology, which has become a pet project of President Bush in repairing the U.S. health-care system.
CapMed offers a suite of hardware and software products to manage health data, including Personal HealthKey, a secure USB thumb drive that puts health information on a consumer's keychain. Its goal is to make health information available anytime, anywhere. Cell-phone access is also an option.
In October, Microsoft Corporation (Nasdaq: MSFT) included CapMed's In Case of Emergency technology in its HealthVault initiative.
Ray Myers, director of research at Emerging Growth Equities Ltd., upgraded Bio-Imaging to a "strong buy" on Nov. 8, along with lifting his 12-month price target to $11.50 by a whopping $4. Myers told SmallCapInvestor.com that he believes CapMed carries some hidden value for investors to consider.
"About half the value of the stock is tied up in CapMed," said Myers, who calls it "a nice proof of concept," especially given its acceptance by the Microsoft program. Bio-Imaging has been spending heavily to position CapMed for such ventures as HealthVault.
"If they would eventually sell it or license its technology, that could unlock shareholder value," Myers said. A divestiture or CapMed reaching break-even "would add at least $3.60 to our price target."
Regarding the core imaging business, Myers noted that Bio-Imaging "is consistently listed as a top vendor in their niche, and the only public one." He believes "the business is only going to grow" as demand increases for outsourced as well as impartial third-party trials in the drug industry.
Broadpoint Capital initiated coverage of Bio-Imaging Technologies last month, with a "buy" rating and a $12 price target. Broadpoint principal Glenn Garmont predicted in a Dec. 12 report that additional acquisitions for Bio-Imaging are likely, given its cash position.
Following the posting of third-quarter results, Roth Capital Partners maintained a "buy" rating, while raising the price target to $10 from $9. Analyst Tim Brown wrote in a Nov. 8 note that he's expecting to see some announcements of CapMed contracts as it negotiates with health-care companies and employers.
Analysts surveyed by Thomson Financial are looking for Bio-Imaging to report for the just-completed year earnings per share to more than double to about $0.17 — which would be at the high end of the company's November guidance, a range of $0.15 to $0.17 EPS. The analysts are looking for an 18% revenue jump to $48 million; the company is expecting service revenue, which accounts for the bulk of its revenue, to be in the $42 million to $44 million range.
The company's guidance for 2008 is relatively conservative, with EPS expected in the range of $0.21 to $0.23 — well below the Thomson Financial per-share estimate of $0.26.
As the leader in a health-care sector that is expected to grow, Bio-Imaging Technologies (BITI) could deliver to small-cap investors healthy returns as it continues to grow.
Disclosure: none