There are a lot of ways to look at market risk. Yesterday, I wrote how some of those measures were being distorted by Central Bank actions, namely December's LTRO and February's LTRO 2.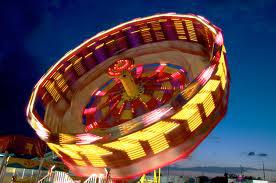 But the most common measure of risk remains unchallenged. The Tilt-o-Whirl.
It doesn't matter if we're long or short the SPX (NYSEARCA:SPY), the DJIA (NYSEARCA:DIA) or shares of Apple (NASDAQ:AAPL). The Tilt-o-Whirl "get me off this ride" feeling of discomfort usually comes accompanied, heads in hands, with heavy doses of hope and prayer.
You might think it's hard to quantify the Tilt-o-Whirl. But it's not.
One simple way to see how nausea investors have become is to count how many stocks are unraveling, which is something we do every week here.
After all, as I wrote in my book "Your Guide to Better Stock Picks: Tips from the Advisor's Advisor" you can't shout at the market "you're wrong!" You can't explain to the market "this is why my stock is worth so much more." Frankly, Mr. Market doesn't care.
Here's what we found.
Today, we focused on our 600 stock small-cap universe. Currently, 240 are trading more than 5% below their 200 DMA, up from a low of 62 in February. This puts us close to the 253 reading back on June 16th, 2011.
(Click to enlarge)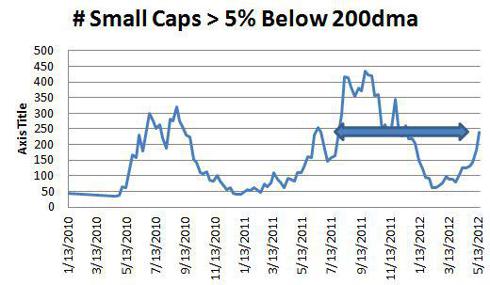 The Russell 2k advanced 9% from 6/16/2011 to its interim peak on July 7th - before rolling again to the Q3 lows.
(Click to enlarge)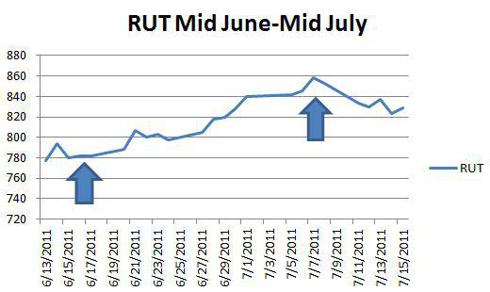 If this tape plays out similarly, we're getting due for a rally - even if only for a couple weeks.
Disclosure: I have no positions in any stocks mentioned, and no plans to initiate any positions within the next 72 hours.