Last Tuesday, we wrote an article titled "How Low Will Apple Share Go In a Major Market Correction?". Since closing around $568 that day, Apple (NASDAQ:AAPL) shares are down over 6% and the stock is now less than 4% away from the upper range of our target "Buy Zone" ($515).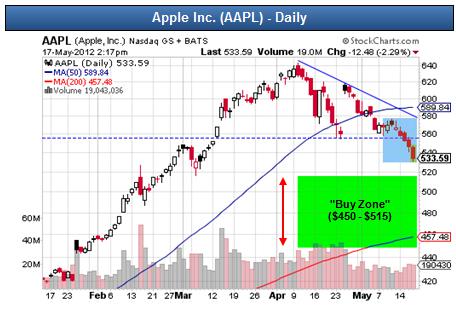 As we highlighted in our previous article, our target "Buy Zone" is based on fundamental and technical resistance levels (not necessarily current valuation). While we think Apple is a great company and we currently own the stock, stock prices often diverge from fundamentals during a market correction.
Valuation and Dividend Yield Resistance Levels
Many analysts talk about technical resistance levels for stock prices, but we also believe that fundamental resistance levels exist as well. The analysis below calculates trailing EPS, forward EPS and dividend yield for a range of downside prices. The analysis also computes the cumulative percent decline from Apple's peak price ($644.00) for each downside price.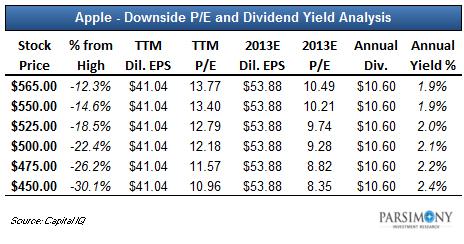 In a normal market, Apple would no doubt be a "strong buy" at its current valuation. However, the broader market is currently in the midst of a pullback and true fundamental valuation is taking a backseat to the fear of further price declines. At times like this, we like to target a "back up the truck" valuation range for a stock. For Apple, we believe that there will be a downside floor on price based on valuation and dividend yield. For trailing P/E, we believe that the floor valuation is between 11.0x and 12.0x, which is the level at which we think institutions will strongly support the stock. In addition, we think that the 2.0%-2.5% dividend yield range will also be to hard to pass up for institutions. This equates to a downside price range of $450-$500 for the stock (see table above).
In addition, we also try to estimate the maximum peak-to-trough decline in a stock to determine how far the rubberband could stretch to the downside. For Apple, we think the current peak-to-trough decline will be in the 20%-24% range (based on past corrections). At $534, the stock is already down over 17% from its recent high of $644.
Even though we think the stock could go as low as $450 based on the fundamental resistance discussed above, $515 is the magic -20% mark for Apple shares (from the peak of $644) and we would feel comfortable starting to add to our position at this level.
A Word of Caution
As we have pointed out in the past, Apple has followed the market lower during the two major market corrections since the 2008 recession, with an average correction of only 80% of the broader market correction (see table below).

However, the tail (Apple) seems to me wagging the dog (market) this time around. Apple has actually led the market lower recently, declining over 17% from its recent peak (compared to average declines of less than 10% in relevant broader market indices):
That said, if Apple continues to lead the market lower, our 20%-24% peak-to-trough target decline may prove to be conservative.
Disclosure: I am long AAPL.